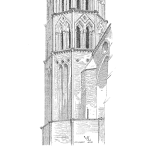 Part 3 – What action?
Covid put many of our companies into a paralysis-like state. We've survived thanks to austerity measures, but we all know that we can't cut our way to prosperity. As the recovery looms, we can act now to ensure sustained operational efficiency and organic growth post-pandemic.
Improving your maintenance program, as mundane as it may sound, can produce very high returns for very little investment. The first step – stop viewing maintenance as a cost to be minimized. Rather, view it as an ongoing investment in productive capacity.
If you look up a definition of "maintain" you'll find nothing about restoration work. Repairs are not all there is to maintenance. Maintenance is about causing or enabling a condition to continue – the condition is productive operation. Repairs cause that to be restored. The right maintenance done proactively enables continuity.
I suggest that we start to focus on your reliability program and your maintenance processes. That's the program of proactive work and how you do it, in order to sustain operational capacity. You want an effective program, executed efficiently.
Reliability programs are largely proactive, low cost, and highly effective at avoiding the unwanted consequences of failures – downtime, repairs, delays… They lower costs, lower safety, and environmental risks, increase asset availability, enable greater utilization and output. Higher outputs at lowered costs translate into greater margins and profitability.
A big hurdle that held back many reliability improvement initiatives pre-Covid was that they required an investment of time and a little money to achieve them. The amounts are small compared with your maintenance budget and the value of your production output, but austerity measures that preceded Covid probably left your maintenance crew somewhat understaffed and overworked. There was no bandwidth for improvement, even if it meant lowered workloads and alleviating staffing pressures.
Thanks to the Covid-induced slowdown, machinery stresses are down and breakdowns are fewer. Pressure for rapid repair is less. Your maintenance department is getting a bit of a breather. Right now they are able to handle improvement initiatives to re-engineer your maintenance program and turn it into a reliability program. That "reliability program" requires a small investment of time and training for both your maintainers and your operators.
If you do that now, you will see results quickly. More capacity, reliability, and more sustainable operations from your existing plant will prove that you are on the right track. This diagram from our book, "Paying Your Way – Improving Performance through Uptime" shows how various activities are inter-related to deliver high performance from your physical assets:
If your "maintenance program" failed to sustain high levels of reliability at a low cost, then it needs an overhaul. Specifically here are things you can be doing now that you couldn't (or wouldn't) do before:
Review your maintenance work management process,
Review the integration of your maintenance planning, scheduling, and spare parts supply processes,
Update your asset criticality analysis – identify your more critical assets,
Train for and perform Reliability Centered Maintenance on your critical assets,
Make sure you have a root cause analysis process to handle "bad actors",
Use "Proactive Maintenance Review and Optimization" to review your reliability program for non-critical assets.
Applying RCM will transform your "maintenance program" into a "reliability program". Combined with process improvements you will achieve high performance.
You cannot achieve operational efficiencies, and operational excellence, provide that solid foundation for organic growth (i.e.: your CEOs' top priorities) if your plant is breaking down frequently. It's time to re-engineer your maintenance programs for higher performance. That old maintenance program that didn't work so well before, needs to become a reliability program. It's a transformation that you can better handle while things are still a bit slow.
Are you and your company ready to survive the recovery and then thrive?
Take our quick Maintenance and Reliability Maturity self-assessment (free).
Talk to us – we can help you get there quicker than you might expect. Click here to book an initial consultation.