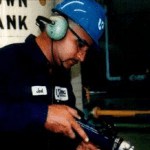 One of the most common mistakes I see at plants and manufacturing facilities around the world is centered on the lack of a good lubrication program. For whatever reason, the task of lubricating equipment in most companies has been traditionally viewed as menial but necessary and delegated to low skill level employees with little or no training in lubrication best practices. It is this type of thinking that results in the unexpected failure of rotating equipment, including, pumps, motors, gearboxes, and bearings. Worse yet are the companies that have no lubrication program at all and somehow believe that someone in the plant will lubricate the equipment when it needs it. Just leave a few grease guns and some oil drums around the site and people will know when to add some.
Here is the reality. If you are a Plant Manager looking to improve equipment reliability across your entire site, I would recommend that you start by building a strong lubrication program. Understand, this will only occur when you accept the fact that the job of lubricating your equipment requires a trained and certified Lubrication Technician who has the right tools and lubricants to perform the job.
With that being said, here are the 10 things a Lubrication Technician can do today to improve reliability.
MLT/MLA Training and Certification – If your Lubrication Technician has not received the necessary training to achieve MLT (Machine Lubrication Technician) level 1 or 2 certification, as well as MLA (Machine Lubrication Analyst) certification, he or she needs to start on that track today. Achieving excellence in lubrication requires a person with this level of training. It is important to understand that this is not someone who will sit at a desk, develop procedures, and delegate lube tasks to other untrained people. The certified Lubrication Technician needs to be a hands-on person who takes ownership of identifying and performing the tasks.
Walk Down and Identify – With training and certification in progress, the first step to building a sound lubrication program is to identify all of the equipment at your facility that requires lubrication. This will not be an easy task as it has been my experience that most plants with a high level of emergency demand maintenance (above 60%) have not identified all of the equipment that needs to be lubricated at their site. To make matters worse, nearly 50% or more of those they have identified in the current plan are being lubricated with the wrong type, wrong amount, or at the incorrect frequency. As the lubrication points are identified, the specifics such as nameplate, bearing type, application, and speed will need to be listed to match the point with the correct lube task.
Filter New Oil – Some would assume that because the oil delivered to your plant comes in a sealed drum, the oil is clean. Experts in the field of lubrication will tell you that this is a big mistake because the drums are rarely clean when filled and samples of oil taken from new drums are most always contaminated with particles to a point where the oil does not meet the ISO standard 4406 for cleanliness. By ensuring that the new oil at your site meets the ISO standard, you will make a large step in improving the reliability of your rotating equipment.
Dedicated Containers – With your new oil filtered and clean, the next step is to make sure to use dedicated clean containers to transport the oil from the lube room to the equipment. While people at a plant site have the belief that oil is oil, some might be thicker or thinner, dark or light in color; each can be chemically different and often very incompatible. As a result, we need to ensure that we have designated contamination-free containers for each type of oil we use at the site. Do not forget, while I have mainly focused on oil, the same thing applies to grease. You should have a separate and clearly labeled grease gun for each type of grease, along with the understanding that not all grease guns deliver the same amount of grease with each pump.
Equipment Labeling – If you are looking to significantly reduce lubrication-related failure modes, you need to ensure that the correct type and amount of lubrication is added to each lubrication point at the correct frequency. Labeling your lubrication points, as well as each designated container, is the only way to make sure we get it right. While in the past some sites have had problems finding a label that will hold up in their specific manufacturing environment, this is no longer a valid excuse as there are hundreds of different types and materials available from worded tags to bar codes.
Oil Lubricated Component Sampling and On-Line Filtering – The reliability of your gearboxes is highly dependent on contamination control. It is this simple: if you want your gearboxes to last 10 or 20 years, they need to be properly aligned and the oil in the gearbox needs to be clean. To ensure this is the case, you will need to sample the oil and have it analyzed for contaminants. Should the sample indicate a level of contaminants that exceed the ISO standard, you will need to use an on-line filtration system to remove the contaminants. Being fair, the topics of oil sampling, analysis, and on-line filtering are far too deep to cover in this paper. The point here is to ensure that all critical asset gearboxes have been considered for these methods.
Own Your Job – It is important to remember that having one or two certified Lubrication Technicians at a site will make a difference in the reliability of your equipment so long as they are the only people who are ever responsible for lubricating the equipment. However, the reality is that other people will be asked to perform lubrication tasks as part of their job (TPM tasks for example). This being the case, the certified Lube Techs will need to develop a program to train other people who are asked to lube the equipment to ensure they fully understand sound lube practices. Completing MLT and MLA training and certification will make you a good Lubrication Technician; sharing what you have learned with the maintenance and operations people at your site will make you a great one. Great Lubrication Technicians take ownership of the lubrication program regardless of how many people are involved in lubing the equipment.
Application Auto Lubrication Systems – I worked at a site two years ago where someone firmly believed he could resolve a good percentage of his lubrication issues by installing hundreds of automatic lubrication systems that would meter grease or oil to the lubrication point. His decision backfired in a big way and resulted in the failure of several critical assets because he failed to consider several things about the devices. Today would be a great day to make a list of where all the automatic lubrication systems are at your site and determine if they are the correct type and that each has been installed properly, including the line length, the correct dispense rate, and the need to perform periodic inspections at the lube point to ensure lubricant is reaching it.
Do Not Forget the Oil Breathers – While on-line filtering is an effective way of keeping the oil in your gearboxes clean, it is far more cost effective to keep the contaminants out in the first place. Unless specified when ordered, most gearboxes show up to your sit with a small vent port plug that will allow the gearbox to breath but will not do an effective job in keeping out contaminants that will cause damage to the gearbox. Today would also be a great time to make sure each gearbox at the site has the correct type of breather in place to keep moisture and particles out of the gearbox.
Get Involved With TPM – Total Productive Manufacturing/Maintenance (TPM) is a very effective tool that encourages machine operators to become involved in daily maintenance activities such as machine set up, product changes, cleaning, and lubrication. If TMP is part of your company's continuous improvement process, the Lubrication Technician needs to be involved in the effort by participating in TPM events, or at a minimum, reviewing the lubrication tasks that will be performed by the operations people and training the people who will be assigned how to properly perform the TPM lubrication tasks.
Finishing this out, I would like to thank Stacy Heston for reviewing my work on this topic. Stacy is our Lubrication Subject Matter Expert at Allied Reliability Group and the person I always go to for answers when one of my RCM teams is experiencing some unusual or a high level of lubrication-related equipment failures.
I would also like to say that over the length of my career, I am encouraged to see the transition some companies have made in regard to recognizing the need for Certified Lubrication Technicians. But still today, when it comes down to it, there are two types of companies: those that understand the benefits and have recognized the results of doing so and those who have not and continue to live in the dark ages of unexpected equipment failures.
Which kind of company is yours?