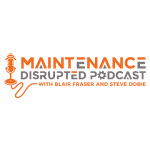 MD 179 Addressing Leadership Challenges with Robert Kalwarowsky
Changing leadership is hard, both within yourself and within an organization.
In this weeks episode we catch up with Rob Kalwarowsky and discuss leadership and how we can affect change both for ourselves and for our organizations.
Episode Shout Outs:
Robert Kalwarowsky – https://www.linkedin.com/in/robert-kalwarowsky/
https://www.elitehighperformance.com/leadership/
Check out our website at www.maintenancedisrupted.com and sign up for the weekly disruption newsletter with bonus content. If you like the show, please tell your colleagues about it and follow maintenance disrupted on LinkedIn and YouTube.
Follow Maintenance Disrupted on LinkedIn
https://www.linkedin.com/company/maintenancedisrupted
Music: The Descent by Kevin MacLeod
Link: https://incompetech.filmmusic.io/song/4490-the-descent
License: http://creativecommons.org/licenses/by/4.0/