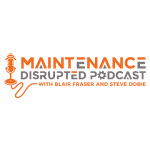 MD 140 Over The Line – Training with Lucas Marino & Rob Kalwarowsky
In this podcast, we invite Lucas Marino & Rob Kalwarowsky, two individuals who have dedicated themselves to the improvement of our industry, and the people that work within.   We discuss what training should we get, where should we get it, how do we assign a value to it, how to keep it from getting cut, and some free resources that are available if your training budget has been cut.
Connect with our guests here:
Lucas Marino: https://www.linkedin.com/in/lucas-marino-pmp/
East Partnership: https://www.eastpartnership.org/
Robert Kalwarowsky: https://www.linkedin.com/in/robert-kalwarowsky/
Robs Reliability: http://box5372.temp.domains/~robsreli/
If your company sells products or services to engaged maintenance & reliability professionals, tell your marketing manager about Maintenance Disrupted.  If you'd like to discuss advertising, please email us at maintenancedisrupted@gmail.com
Check out our website at www.maintenancedisrupted.comand sign up for the weekly disruption newsletter with bonus content. If you like the show, please tell your colleagues about it and follow maintenance disrupted on LinkedIn and YouTube.
Follow Maintenance Disrupted on LinkedIn
https://www.linkedin.com/company/maintenancedisrupted
Music: The Descent by Kevin MacLeod
Link: https://incompetech.filmmusic.io/song/4490-the-descent
License: http://creativecommons.org/licenses/by/4.0/