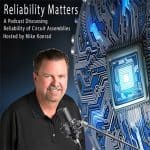 Industry Standards Explained with Leo Lambert
Those of us in the electronic assembly space are no doubt aware of standards. In the simplest terms, standards tell us how to build products correctly. They differentiate correct from incorrect. They tell us what type of materials to use, how a solder joint is determined to be acceptable. Standards tell us how to test various parts of our assembly.
How are the standards derived? Who determines what the standards are? How often are they updated?
To answer these and other questions, I invited Leo Lambert onto the show.
Leo is the author of several publications, including "Soldering for Electronic Assemblies", published by Marcel Dekker in 1987. He has published and presented numerous papers relative to the subject of Soldering and Cleaning at various Technical Seminars and Exhibitions worldwide.
Leo Developed, published, and conducted seminars entitled Deadline to Lead Free Seminars and Thriving in a RoHS/WEEE Environment.
Leo received the IPC President's Award in 1989 for work conducted on solderable coatings for printed wiring boards.
He is an IPC Hall of Fame recipient, Charter Member on UNEP (United Nation Environmental Program) Technical Solvent Options Committee, where he overseed the worldwide activities in reducing CFC's from use as cleaning material in Electronic Manufacturing resulting in the publication of the Montreal Protocol, an international treaty banning certain CFC-based materials.
Leo is a Member of ICOLP (Industry Cooperative for Ozone Layer Protection). Leo is a recognized expert in standards and, he's my guest today on this episode of the Reliability Matters Podcast.
Leo's Contact Information:
Leo Lambert
leo@eptac.com
https://www.eptac.com