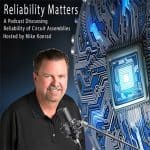 A Conversation with Industry Icon Bob Willis
We are all aware of the supply chain issues our industry has faced. Beginning with electronic components, it has spread to so many other types of parts are industry relies on. Fortunately, it looks like we are beginning to come out the other end of the supply chain shortage.
But the supply chain problems have further spread to the labor market. If you are in a position to hire people for your company, you know firsthand how difficult that process can be today.
Adding to the level of labor acquisition difficulties is the great "Silver Tsunami", otherwise known as the great retirement.
As I mentioned on our last episode, episode number 130, the fact is, baby boomers are entering retirement in greater numbers. According to government data, from now until 2030, 10,000 Baby Boomers each day will hit retirement age. Millions will begin to officially retire.
Some of these retirees are designated subject matter experts within their companies. Not only are people retiring, they are taking with them a vault of valuable knowledge.
This has created an even larger demand for consultants within our industry. I've had several industry consultants on my show over the last few years, including today's guest.
And who is today's Guest? Legendary industry consultant, Bob Willis. If you've been in this industry longer than 18 seconds, there's a good chance you've at least heard his name. If you've been in this industry for virtually any length of time, there's a good chance you've seen his videos, read his books, or watched him present at numerous industry conferences and symposiums. If I reviewed Bob's complete professional biography, it would take an entire episode. Here's my conversation with my friend and colleague, Bob Willis.
During our conversation, we discussed Bob's newest book, "Robotic Soldering Inspection and Defect Guide".
Anyone who makes a donation to Bob's chosen charity will receive a download of his book as well as access to Bob's complete book collection:
• Robotic Soldering Inspection and Defect Guide
• Pin in Hole Intrusive Reflow Desing, Assembly & Defect Guide
• Package On Package Assembly Inspection & Quality Control
• Solder Paste Print Inspection & Defect Guide
• Lead-Free Defect Guide 3
• Conformal Coating Inspection & Defect Guide
• QFN LGA Assembly Inspection & Defect Guide
• PCB Surface Finishes Inspection & Defect Guide
• Cleaning & Contamination Defect Guide
Click below for more information:
https://www.justgiving.com/page/bob-willis-roboticsolderingbook