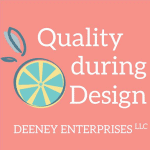 Product Design from a Marketing Viewpoint, with Laura Krick (A Chat with Cross Functional Experts)
This interview focuses on product design from a marketing viewpoint, including sales and commercial operations.
"A Talk with Cross Functional Experts" is a Quality during Design interview series. Our focus is speaking with people that are typically part of a cross-functional team for new product development. We discuss their viewpoints and perspectives regarding new products, the values they bring to new product development, and how they're involved and work with product design engineering teammates.
Laura Krick
Today we speak with Laura Krick, a VP for a global medical device manufacturer (who has, since our interview, been promoted to Chief Commercial Officer – congratulations!). She's involved in marketing, sales, and commercial operations for new product development.
We talk about these topics:
Her background and what led her to her current role.
Her roles in new product development, including her hands-on commercial operations perspective.
Developing the user experience through data, iteration, and relationships with early adopters.
Reasons and methods for product design engineers to get into the field.
Ways for product design engineers to utilize the knowledge base of sales, marketing, and commercial operations reps in their cross-functional team.
Having fun being part of a risk management activity (!)
Her recommended books and authors for engineers.
Listen to a Chat with Laura. Gain a different perspective and get actionable advice.
Episode Transcript