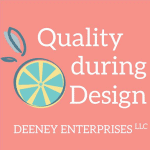 Product Design with Brainstorming, with Emily Haidemenos (A Chat with Cross Functional Experts)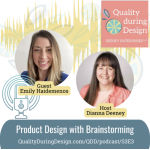 Dianna Deeney interviews Emily Haidemenos about product design with brainstorming. She hosted a workshop at a conference about this topic, titled "Brainstorming: The Solution to Structured Problem Solving".
This interview is part of our series, "A Chat with Cross Functional Experts". Our focus is speaking with people that are typically part of a cross-functional team for new product development. We discuss their viewpoints and perspectives regarding new products, the values they bring to new product development, and how they're involved and work with product design engineering teammates.
About Emily
Emily has a master's degree in Design and Manufacturing Engineering from the University of Massachusetts Lowell.  After initially working as a Design Engineer, Emily left and moved into a New Product Development Quality Engineering position.  In this role, she worked with multiple cross-functional engineering teams to ensure the effectiveness of quality systems while earning her Six Sigma Black Belt certification.  Now as a Chief Engineer for next generation high voltage automotive products, she aims to grow and develop a team of technically competent individuals who realize their maximum potential.
Emily and Dianna talk about:
some of the common pitfalls of brainstorming from a perspective of taking defensive action against those pitfalls.
the basic steps of brainstorming, but then circle back to the planning phase. There's a lot we can do in the planning phases, and Emily shares specifics about planning for brainstorming so we can get the most out of it. Including setting up those defenses.
best practices for leading a brainstorming session. Emily shares the successes she's had with it, and what her team thinks about it.
Listen to be inspired to either take on brainstorming or change-up how you're doing your sessions!
Thanks for listening.