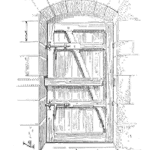 Exploring Alternatives to MTBF
You may already know my position on MTBF.
If not, in short, do not use MTBF at all, ever, in any form. So what should we use instead?
I suggest using reliability, the probability of success over a specific duration.
Let's discuss what will work for you.
Let's explore MTBF in two parts.
First, let's share some stories about how the use of MTBF leads to misunderstandings and poor decisions. How bad can the use of MTBF really be? What have you seen and how much time have you spent educating others about MTBF?
Second, let me propose that we simply use reliability as a replacement metric.
The probability of success over duration. Right from the definition for reliability. It straight forward, the math is easy, and very few can misinterpret its meaning. For a bonus ass the cost per failure to tie the reliability metrics into business objectives language (money).
Finally, what to do if your organization or vendors are mired in the use of MTBF.
Let's discuss the next steps and what you can do today to minimizes the adverse impact of MTBF. Plus, let's share some success stories of steps various organizations are taking to improve their reliability programs simply by avoiding the use of MTBF.
If you face entrenched positions supporting the use of MTBF, and you want to change to a better measure, this webinar is for you.
If you have moved your organization away from MTBF, please join the conversation and share how you did it.
This Accendo Reliability webinar originally broadcast on 10 November 2015.
Exploring Alternatives to MTBFFred Schenkelberg
Please login with your site registration to view the video recording.
If you haven't registered, it's free and takes only a moment.