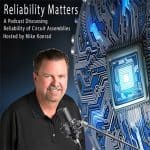 A Conversation with KIC's MB Allen About Thermal Management and Reliability
Most of our episodes feature guests representing specific segments of the electronic assembly industry. Today's episode is no exception. My guest on this episode is MB Allen from KIC. KIC provides thermal profiling hardware and profiler software tools that help define, measure, monitor, and improve thermal processes for electronics manufacturing services. Today, more than ever, thermal management is vital to ensuring a proper reflow or soldering process. There is a direct link between proper reflow profiles and reliability, which makes this topic relevant for any conversation about reliability.
MB Allen is the Manager of Applications and Sales for the Americas and Europe.
Formerly a Product Manager MB coordinated the advancement of new products and features to accommodate customer needs. Her technical expertise, relationships with valued partners and customers, and many years of experience aid in the future development and improvements of her company's product offerings.
MB has worked in the electronics industry for 31 years and been associated with KIC for 30 years with both national and international positions.
We discuss thermal management and assembly thermal profiling as a means to better reliability.