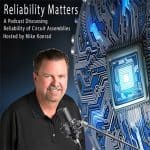 A Conversation with Dr. Chris Jackson About Reliability
Episode 45: A Conversation with Dr. Chris Jackson About Reliability
Dr. Chris Jackson discusses reliability and his five-part article series entitled "3 Ways to do Reliability Allocation."
Dr. Chris Jackson is the founder of Acuitas, a company dedicated to reliability. 
Chris founded Acuitas in 2010. He was awarded his mechanical engineering degree from the University of New South Wales, and has since receive a Masters in PhD in Reliability Engineering from the University of Maryland. He is an American Society of Quality Certified Reliability Engineer (CRE), and a Chartered Professional Engineer (CPEng) from Engineers Australia.
​
He has been the Senior Reliability Engineer for the Australian Defence Force, and has been the director and founder of multiple research centers at the University of California Los Angeles. He has authored or co-authored multiple textbooks on reliability engineering and implemented several RAM programs across multiple industries.
During the interview, Chris discusses his five-part article entitled "3 Ways to do Reliability Allocation." This article may be viewed here:
https://accendoreliability.com/?s=3+Ways+to+do+Reliability+Allocation
Additional technical works by Dr. Jackson may be viewed here:
https://accendoreliability.com/page/2/?s=jackson
Dr. Jackson's book "Reliability Engineering and Management" may be purchased here:
https://www.amazon.com/Reliability-Engineering-Management-Christopher-Jackson-ebook/dp/B071LGDYQG
Dr. Jackson may be reached here:
chris.jackson@acuitas.com