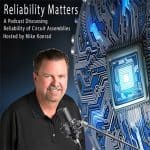 A Conversation with Environmental Sustainability Expert Matthew Chalkley
Episode 47: A Conversation with Environmental Sustainability Expert Matthew Chalkley 
Matthew Chalkley has over 26 years of supply chain experience in the Information and Communication Technology (ICT) sector. Matthew has held a number of senior operational management positions within, engineering, manufacturing, materials management, procurement, and customer order fulfillment.
Matthew was the Global Program Manager for IBM's Supply Chain Social & Environmental Management System and the Global Tactical Lead for IBM's Center of Excellence for Product Environmental Compliance. Matthew currently chairs the Environmental Sustainable Electronics (ESE) Technical Work Group for the International Electronics Manufacturing Initiative, known as iNEMI.
Matthew has a Post Graduate Diploma focused in Environmental Management from the University of Ulster.
Matthew may be reached here:
chalklem19@gmail.com