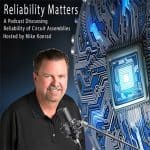 A Conversation with Solder Paste Expert Paul Salerno
My guest today is Paul Salerno. Paul holds an MBA with specialization in finance and marketing from Rutgers Graduate School of Business. He is the Global Portfolio Manager at MacDermid Alpha Electronic Solutions with expertise in product lifecycle management and development of strategic technology roadmaps for the global surface mount technology business. Paul works with customers in both Europe and Asia with customers in automotive, computing, communications and consumer electronic markets. 
Paul and I discuss soldering materials including "high reliability" solder paste, low and ultra-low solder pastes, and design-for-use solder paste selection processes.
Paul may be reached here:
Paul Salerno
Portfolio Manager, SMT
Assembly Solutions
Paul.Salerno@MacDermidAlpha.com