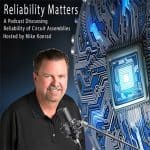 A Conversation with Thermal Management Expert Miles Moreau
Miles Moreau is KIC's General Manager, has been with KIC for nearly three decades. He draws his deep and rich expertise from managing multiple business units across four continents spanning operations, field service, and sales and marketing channels. His expertise is in thermal management and that's exactly what we're going to talk about today.
We've discussed how to profile a board on this show. Today, we're going to talk about profiling an oven and a wave soldering machine, and how, when done correctly, may reduce the number of times one has to attach thermocouples to a circuit board and run it through an oven or wave soldering machine.
Miles' Contact Information:
Miles Moreau
mmoreau@kicmail.com
https://kicthermal.com