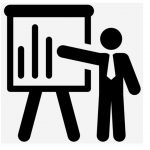 Every FMEA team needs to prioritize risk as part of the procedure. Why? Because companies or organizations have limited resources that must be focused on highest risk. The question becomes, by what method should we prioritize the risk identified in an FMEA?
Methods to prioritize risk in an FMEA
There are at least four methods to prioritize risk in an FMEA. These methods use different combinations of Severity, Occurrence, and Detection risk assessments. Quantitative Criticality Analysis uses additional calculations. All four methods have pros and cons.
1. SO Matrix or what is also called Qualitative Criticality Analysis
2. Action Priority Method
3. Quantitative Criticality Analysis
4. Risk Priority Number (RPN)
In the examples, I'll use Severity, Occurrence and Detection scales that range from one to five.
SO Matrix or Qualitative Criticality Analysis
An SO matrix visually displays the severity risk on one axis and the occurrence risk on a second axis to show the level of overall risk. Colors, such as red, yellow, and green can be used to differentiate the corresponding risk.
[Note, the application of Qualitative Criticality Analysis in MIL-STD 1629A is the same as the application of SO Matrix in SAE J1739, albeit with different Severity and Occurrence scales.]
Example of SO Matrix for a Design FMEA.
Pros: It is simple and easy to use, and visually shows levels of risk.
Cons: It does not take into account detection risk; it does not consider quantitative data (if available).
Action Priority Method
The Action Priority (AP) method of risk prioritization accounts for all combinations of S, O, and D. This allows more emphasis on severity, and adjusts for the shortcoming in RPN (discussed below). The combinations for S, O, and D are represented in an Action Priority Table.
An AP table combines Severity (S), Occurrence (O), and Detection (D) ratings with suggested priority levels for identification of potential actions to reduce risk based on High (H), Medium (M), and Low (L) assessments. Individual companies may develop their own criteria for H, M, and L and make a company-specific Action Priority table available to the DFMEA team and customer or supplier.
The following is an example of a fictitious AP Table. AP Tables can also be tabular.
Pros: Accounts for all combinations of S, O, and D; resolves problem with RPN.
Cons: Is more complex than SO matrix.
Quantitative Criticality Analysis
Quantitative Criticality Analysis is unique to MIL-STD 1629A, or corresponding documents that are based on 1629A.
Excerpting from chapter 12 of Effective FMEAs:
Quantitative Criticality Analysis is a series of calculations to rank items and failure modes according to a formula covered below. To use Quantitative Criticality Analysis to evaluate risk and prioritize corrective actions:
1. Calculate the expected failures for each item. This is the number of failures estimated to occur based on the reliability/unreliability of the item at a given time.
2. Identify the mode ratio of unreliability for each potential failure mode. This is the portion of the item's unreliability (in terms of expected failures) attributable to each potential failure mode.
3. Rate the probability of loss that will result from each failure mode that will occur. This is the probability that a failure of the item under analysis will cause a system failure. For example, in MIL-STD 1629A:
Actual Loss:      100%
Probable Loss: > 10% to < 100%
Possible Loss:  > 0% to < 10%
None:                 0
4. Calculate the mode criticality for each potential failure mode. This is the product of the three factors: Mode Criticality = Expected Failures (for the item) × Mode Ratio of Unreliability (for the failure mode) × Probability of Loss (for the failure mode).
5. Calculate the item criticality for each item. This is the sum of the mode criticalities for each failure mode identified for the item. Item Criticality = SUM of Mode Criticalities
The following is an example of Quantitative Criticality Analysis for a fictitious bicycle brake pad:
Risk Priority Number (RPN)
In an FMEA, Risk Priority Number (RPN) is a numerical ranking of the risk of each potential failure mode/cause, made up of the arithmetic product of three elements: severity of the effect, likelihood of occurrence of the cause, and likelihood of detection of the cause.
Once all high-severity issue have been addressed, the FMEA team can take up high RPN issues, in sequence. RPN thresholds are not advised.
Example: Power steering pump
(S, O and D scales are from 1 to 5)
Function: Delivers hydraulic power for steering by transforming oil pressure at inlet ([xx] psi) into higher oil pressure at outlet [yy] psi during engine idle speed
Failure Mode: Inadequate outlet pressure (less than [yy] psi)
Effect (Local: Pump): Low pressure fluid goes to steering gear
Effect (Next level: Steering Subsystem): Increased friction at steering gear
Effect (End user): Increased steering effort with potential accident during steering maneuvers
Severity: 5
Cause: Fluid incorrectly specified (viscosity too low)
Occurrence: 3
Prevention Control: Design guidelines for hydraulic fluid selection
Detection Control: Vehicle durability testing #123
Detection: 2
RPN: 30
Pros: Simplicity – a single number attempts to represent risk priority.
Cons: High severity must be addressed first before high RPN; RPN thresholds are enticing; actual risk is not linear.
See article: Is There a Better Way than RPN?
Next Article
The next article summarizes further insights into FMEA recommended actions.