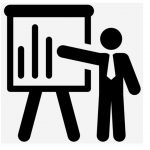 Is it possible to anticipate everything that could go wrong?
"Prediction is very difficult, especially if it's about the future." Niels Bohr
In an FMEA, is it possible to think of everything that might happen in the future? What strategies can be used by FMEA teams to maximize the opportunity to anticipate what can go wrong, so risk can be reduced to an acceptable level?
Definitions
anticipate
The Merriam-Webster dictionary defines "anticipate" as "to think of (something that will or might happen in the future)."
everything
The Merriam-Webster dictionary defines "everything" as "all that relates to the subject."
Can you anticipate everything?
FMEAs are intended to anticipate potential risk and develop actions that will reduce risk to acceptable levels.
However, as pointed out in the book "the invisible gorilla," by Christopher Chabris and Daniel Simons, "When people devote their attention to a particular area or aspect to their visual world, they tend not to notice unexpected objects."
In theory, a properly constituted FMEA team, using FMEA procedure, should be able to anticipate problems and recommend design or test improvements to reduce risk to an acceptable level. However, it is not impossible for something to be missed. This article will discuss some of the strategies that can be used to minimize this risk.
As a note, no single quality or reliability tool will ensure or verify absolute reliability. This is why it is a good practice for FMEA to be performed as part of a comprehensive reliability program. Using the best practices for FMEA along with other appropriate reliability tools, will maximize the effectiveness of the overall reliability program.
How can FMEAs maximize opportunities to anticipate risk?
My book, Effective FMEAs, presents many protocols and procedures that can enhance the potential to anticipate high-risk events and minimize the chance of missing them. Techniques such as brainstorming, divergent-thinking exercises, quality audits, facilitation skills, management reviews, lessons learned, case studies, high-severity protocols, correct FMEA team composition, and other topics help to surface both anticipated and, previously unanticipated events and occurrences.
However, no amount of skill will anticipate and prevent every possible problem and risk.
What strategies can be used to maximize opportunities to anticipate risk?
FMEA procedure includes many strategies that can be employed to maximize opportunities to anticipate risk. The following are some of these strategies.
1. Identify a list of "concerns" when preparing for new FMEA projects, and make the concerns easily available to the FMEA team while performing the FMEA. See "Inside FMEA" article Application Tip – Begin with Concerns.
2. One of the keys to successful FMEAs is using them to avoid repeating past failures. Every company experiences some field failures. The most successful companies do not repeat them. The FMEA team needs to ensure that a summarized list of field failures for similar products is easily available during the FMEA project. This listing of field failures can be "seeded" into the FMEA so the team ensures these failures do not repeat. Alternatively, companies can include field failures in "generic" FMEAs.
3. Use brainstorming in order to "think outside the box." Brainstorming is a technique for getting a flow of ideas on the table before making decisions. This technique is most useful when a decision or solution is not easily forthcoming. The purpose of brainstorming is to allow people to "put ideas on the table without fear of being corrected or challenged." For example, brainstorming can be used to establish actions to address higher risk failure modes and their associated causes. The FMEA team can brainstorm a list of potential actions and enter them directly into the FMEA "Recommended Actions" column. This would need to be followed by evaluating and modifying the brainstormed actions, as needed. Or they can write the list of brainstormed actions in another media, and enter only the evaluated and agreed-upon actions into the FMEA.
4. Once the most important functions have been entered into the FMEA "Functions" column, the FMEA team can ask "what if" questions to help identify all potential failure scenarios. The "what if" questions can be listed (temporarily or permanently) in a separate column in between Function(s) and Failure Mode(s), for easy access by the FMEA team.
5. One of the best ways to anticipate risk is through the use of diagrams. The following diagrams can be used to make the scope of the project visible and ensure the team does not miss important interfaces and other areas where risk can be missed. (It is important to understand when each of these diagrams are needed, as not all are used in an FMEA.)
a. FMEA Block Diagram (See "Inside FMEA" article Making the FMEA Scope Visible)
b. Parameter-Diagram (See "Inside FMEA" article Parameter Diagram and FMEA)
c. FMEA Interface Matrix
d. Functional Block Diagram
6. Leverage the power of a cross-functional team. As pointed out in the article Assembling the Right Team, There are three primary reasons for the necessity to have the correct team when doing an FMEA.
1. People have "blind spots." A well-defined cross-functional team minimizes the errors inherent with "blind spots."
2. The FMEA analysis requires subject-matter experts from a variety of disciplines to ensure incorporation of all necessary inputs into the exercise, and that the proper expertise is applied to the design or process being analyzed.
3. One of the indispensable values of an FMEA is the cross talk and synergy between subject-matter experts that occurs during the meetings. Well-defined groups can discover things that individuals often miss.
Request ideas from readers
I'd like to ask readers a question. Please send your reply to my email address: carl.carlson@effectivefmeas.com.
As FMEA practitioners, what techniques have you used to help ensure that all important risk issues are anticipated?
FMEA Tips
During FMEA meetings, preliminary information can be entered into an FMEA, in order to make ideas, concerns or brainstorming visible to the entire team. The FMEA team can then review and modify, as needed. Some people use font color or font type to identify preliminary information that has not yet been reviewed and agreed upon by the entire team. Important to ensure that only information that has been agreed to by the entire FMEA team remains in the final version of the FMEA.
Reader Question
I'm currently working as FMEA trainer in an overseas factory. My job is to teach new engineering staffs to do proper FMEA assessment.
I purchased your book a few weeks ago for reference and found it very helpful. However, I am still confused about severity rank 9 and 10, especially the terms 'with warning' and 'without warning'. Could you please give some examples?
My Response
[Editor note: this question and reply were written before recent FMEA standards revised FMEA severity scales.]
Thanks for your question. I'll provide a couple of examples.
Design FMEA example (fictitious)
Vehicle brake pad has a feature that makes a loud noise when the pad is worn and needs to be replaced.
Failure mode: excessive brake pad wear; Effect: vehicle wheel does not slow down as quickly as it should, pad makes loud noise, vehicle loses braking power with potential for accident. Severity: 9 (Potential failure mode affects safe vehicle operation and/or involves noncompliance with government regulation with warning.)
If the brake pad did not have the loud noise feature, the severity would be 10 (Potential failure mode affects safe vehicle operation and/or involves noncompliance with government regulation without warning).
Process FMEA example (fictitious)
Plant paint system uses a compressor storage tank that has pressure sensor with alarm.
Failure mode: storage tank pressure too high; Effect: the high storage tank pressure will trigger alarm, and if not resolved the storage tank may rupture, potentially causing injury to operator. Severity: 9 (Potential failure mode affects safe operation and/or involves noncompliance with government regulation with warning.)
If the storage tank did not have the alarm feature, the severity would be 10 (Potential failure mode affects safe operation and/or involves noncompliance with government regulation without warning).
Next Article
The next article is titled, "What is Unique About a System FMEA?" Many companies miss out on the value of System FMEA and begin with lower level sub-assemblies or components. This article explains why it is usually best to begin with a properly done System FMEA.