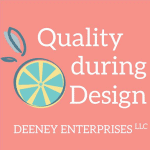 Get Clarity on Goals with a Continuum
We worked on a project with our team and met our goal!
Except, management isn't happy – they expected something else.
Seeing if we have alignment on goals is easy if we gather the team and stakeholders for 10 minutes and use a continuum.
There are certain categories that goals will fall within. A continuum is a way we can list those categories, get alignment, and gain an understanding of how 'big' of a project this is going to be. We get clarity on our goals.
Is it hard? Not at all. Is it eye-opening? Sometimes. It can help us move forward with a discussion to help ensure we're all successful.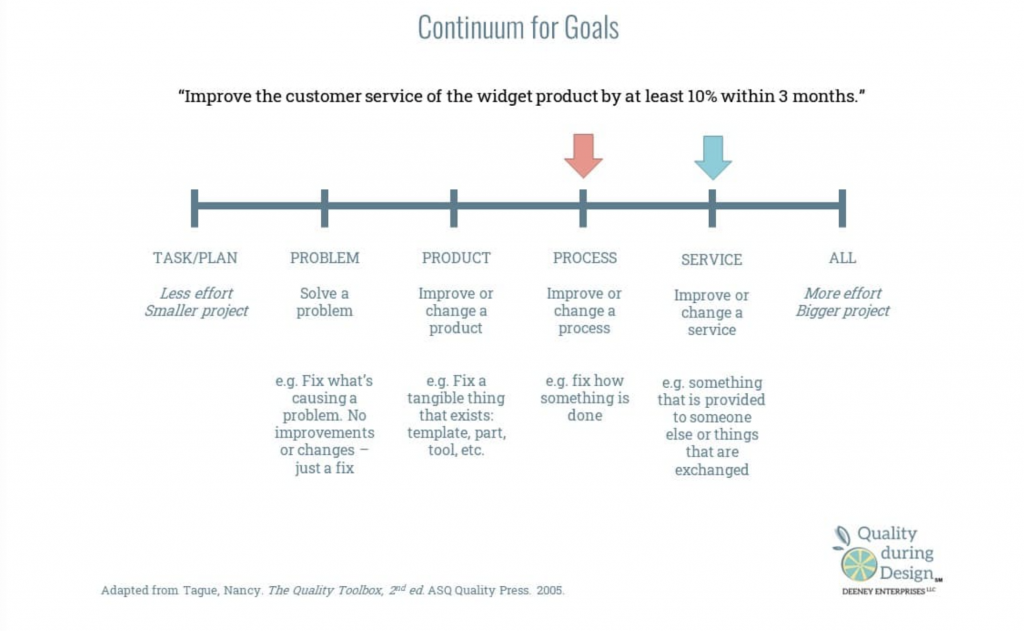 A continuum is a quick, visual way to get alignment about project goals.
If we think there's the slightest chance that there could be misinterpretation in a project or task goal, then we have a quick meeting with our team and stakeholders.
We can make it a formal meeting or use it as a quick check. You can also make it part of the project charter. Remotely, you can do this using a whiteboard or a polling app.
 Purpose: Make sure that everyone understands the goal in the same way and edit the goal, if needed.
Agenda: Individually compare our goal objective against a continuum. Edit the goal, if needed.
Attendees: project team and stakeholders
Write down the goal (as currently stated) for everyone to see.
Draw out a continuum.
Ask each attendee to mark where they think this project lies on the continuum.
If there's a disconnect, facilitate the team and the stakeholders through editing the description of the goal.
Keep it simple! Like many quality tools, this is a visual way to standardize the communication across a team. It helps the team and stakeholders have individual input and to understand what everyone else is thinking. The ultimate goal is to move ahead in the project with confidence – quickly.
Citations:
Other Quality during Design podcast episodes you might like:
Do you have SMART ACORN objectives?
Use Meetings to Add Productivity
How can 8D help solve my recurring problem?
Episode Transcript
We were assigned to a group and given a task, improve the customer service of the widget product by at least 10% within three months. Sounds good. It's SMART: specific, measurable, actionable, realistic, and time-bound. So we set to work and we improve the overall customer service of the widget product by 12%, and we do it within three months. We updated the process so that customer service can now handle 12% more service calls per hour.
However, management isn't happy about it. What do you mean? We improved the customer service of the widget? Product management wanted customer service to improve their interaction with the customer. They wanted to see an improvement in the customer survey response ratings.
So we improved the process. Management wanted us to improve the service. And those are two different things. Sounds like a simple mix-up, but it happens. Instead of pointing fingers, we can take a moment with our team and the stakeholders to do just a clarity check and we can use a continuum to do it. Sound complicated? It's not, but it brings to light quickly a disconnect (if there is one) and when there's a disconnect, we can work it out so that we're working on the proper things. Let's talk more about a continuum, what it is and how we use it, after this brief introduction.
Hello and welcome to Quality During Design, the place to use quality thinking to create products others love for less. Each week we talk about ways to use quality during design, engineering, and product development. My name is Dianna Deeney. I'm a senior level quality professional and engineer with over 20 years of experience in manufacturing and design. Listen in and then join us. Visit quality during design.com.
Do you know what 12 things you should have before a design concept makes it to the engineering drawing board? I've put together a free checklist and a mini training module. You can sign up for it at quality during design.com/programs/twelve things or click the link on the homepage.
A continuum. It's spelled with two U's at the end. Picture a number line, a horizontal line with tick marks on it. But now instead of numbers, we have words and those words describe the scope of a goal. There are five basic scopes of goals or things that we work on.
We can work on a task or a plan, meaning that we're being tasked with getting something done. We're not making changes or improvements. Just do this.
Our goal could be related to a problem: to solving a problem.
Or our goal could be related to a product where we need to make a change or make an improvement to a product.
Our goal could be related to a process where we need to make a change or improve an existing process.
Our goal could be service oriented. Something is being done as a service and we're being asked to make it better. We can change or improve the existing service or break out and completely do something new.
So we have the task (or plan), the problem, product, process, and service as categories that we can use to describe any project or goal that we're working on. Now, just because it happens, we're going to add another tick mark to our horizontal continuum and put "ALL", which means you've got a big project on your hands.
This continuum is a sliding scale. We're going to have a slider on the top of it. That slider will likely be located above one of the tick marks. Our goal is to do a task, solve a problem, improve a product, and so on.
We're working with a continuum here, which means that there is a progression of values along our continuum line. When we are looking at ALL and everything, that is a big project, it's going to take a while, there's a lot of effort involved. On the other end of our scale when we're implementing a plan, we have a pretty narrow and limited focus, and the scope of our goal can lie on either ends or anywhere in between. If our slider ends up closer to the ALL end of our continuum, then it's going to require more effort.
After we've drawn this continuum somewhere on a whiteboard or a virtual whiteboard, we're going to get our team and stakeholders together for 10 minutes and make sure that we've got the right information and that we're all on the same page with respect to the goal. We're also going to write the project goal or mission statement where everyone can see it.
Now, we're going to ask each team member and each stakeholder to add their slider or marker along the continuum where they think this project should be located. Is this project related to a task or a plan that we're just getting something done? Are we solving a problem? Are we improving a product? Are we improving an existing process? Does this have to do with a service or are we looking at the whole thing?
In our example, our team would've put their markers over the PROCESS. Management would've put it over SERVICE. In less than five minutes, we all would've seen the disconnect.
Then what do we do about it? We work it out. We work together to fix the goal or a mission statement, rewriting it so that the team and stakeholders are on the same page with what the project is supposed to be doing. If there is no disconnect and the goal statement is clearly understood and it's a SMART goal, then we're good to go.
If we want to take it a step further, we could evaluate it against an ACORN test, which is another way of looking at goals to make sure they're well defined. We'll end up with a SMART ACORN goal. We covered that in an earlier podcast episode. I'll link to that episode on the blog.
On this continuum, our slider can land between tick marks. We could have two sliders. We're not boxed in here with the sliders and we're not boxed into lots of acronyms to check our goal setting either. We should keep it simple but do what we need to do to communicate.
What's today's insight to action? A continuum is a quick visual way to get alignment about project goals. If we think there's the slightest chance that there could be misinterpretation in a project or task goal, then we take five minutes with our groups, draw out a continuum and make sure that everyone is expecting the same thing. If not, we can facilitate the team and the stakeholders through editing the description of the goal. It doesn't take a lot of time to do. If there is a misalignment between expectations and what's delivered, it saves in many costs in the long run.
If you like this topic or the content in this episode, there's much more on our website, including information about how to join our signature coaching program, the Quality during Design Journey. Consistency is important, so subscribe to the weekly newsletter. This has been a production of Deeney Enterprises. Thanks for listening!