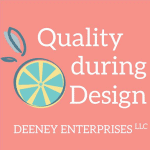 Use Meetings to Add Productivity
Meetings to ADD productivity to our day? Yes!
We need our time to be productive, individually.
We also need input from our team. We can use meetings to add productivity to our day, if done right.
We break it down: hours in a day, limits of humans, and the minimum requirements of a good meeting.
Episode Transcript
I'm seeing it everywhere. People are tired of meetings. They're complaining that it interrupts their productivity time, and there's even such a thing as Zoom fatigue. I get it. Meetings can be tiring and they can interrupt our day, but I also disagree a bit. We need meetings. Let's talk more about this after the brief introduction.
Hello and welcome to Quality During Design, the place to use quality thinking to create products, others love for less. My name is Dianna. I'm a senior level quality, professional, and engineer with over 20 years of experience in manufacturing and design. Listen in and then join the conversation qualityduringdesign.com.
I get a lot of articles in my news feeds about people not wanting to do meetings anymore. They're tired of them. They don't think they add value. They think it interrupts their productivity.
Here at Quality during Design, we promote meetings with our cross functional team as long as they're meaningful. Our cross functional team may be available for questions. They may say, "If you have any questions, just reach out and contact me." But sometimes we don't know what to ask. If we work with our cross-functional teams in a purposeful, meaningful way in a meeting, we can start to evaluate design inputs based on potential system failures, things that could cause problems. Or talk about the user and get more information and details about the user environment. Or production limitations in manufacturing. This is just not the kind of information that we tend to email or slack or text about. These things come up as we're having discussions in meetings.
I fully understand the whole productivity thing. So how can we balance productivity with meetings? And I'm saying that we need both. So how do we have both?
Let's talk a little more about productivity. How many hours can we really be productive in a day? I've read articles. I've listened to podcasts of people from different backgrounds: technical backgrounds, creative backgrounds…and the general consensus is a human being can expect to have three to five hours of focused productivity in a day. Each of us has a time of day when we're more productive over another one. So some of the productivity gurus suggests that you figure out, "For you, what time of day are you most productive?" And then sit your butt down in a chair and get your work done during that time of the day.
Let's do some back of the envelope math here. Say we work in a nine to five job, which is eight hours a day. In three hours of that day, we can get in focused, productive time – things where we are able to focus in on our work and get something done toward our goals for our particular job. And that gives us five hours left out of the day. Let's give ourselves two hours for lunch and breaks. So now we have three hours in our day. Now let's say that a good productive meeting with our cross-functional team takes about one hour. Even after that, we still have two hours left in our day.
Now, considering productivity of individual work versus teamwork: My productivity, when I'm focused on engineering type or technical work – I'm pulling from a pool of my own energy within myself. Somewhere. When I'm working with a team, my productivity energy source is different. I'm sort of pulling off the energy being given off by others, even if it's on a phone call. So we can kind of look at that one hour a day, productive, cross-functional team meeting as extending our productivity time instead of using up the productivity time that we have, which we're limited with anyway. We're extending our productivity time because we can pull off the energy with our cross-functional team.
Now, this is all assuming that our meetings with our cross-functional team are actually productive. Let's define what a meeting would be. If there is no purpose, no agenda, and no facilitator it's not a meeting! It's a party or a social gathering. Our meetings need to have a purpose, an agenda, and a facilitator. So let's take a look at each one of these.
Our meeting has to have a purpose. It is the most basic thing that a meeting needs to have. Why are we getting together? About what decision do we need to make? Where do we need to land or end up with in our project at the end of this meeting? And we can be critical of this. If our meeting that we're being invited to doesn't have a purpose, then we can challenge why we need to go. And we can look at the purpose of the meeting and give another challenge, if we feel like we can. Is this meeting for a status update? Well, in that case, do you really need my warm body in a chair to give me a status update? Just send me an email instead. So first and foremost, our meeting has to have purpose, which has some sort of activity or action to drive a project forward or to make a decision.
Another thing our meetings need to have is an agenda. These are tied to the purpose, but they're just more specific about the topics and the goals that we're going to be covering in the meeting. I'm going to assume that we all know what a good meeting agenda looks like.
What if you're in a support role like a quality engineer or a reliability engineer or a supplier management person where you're not necessarily assigned to any one project to get it done, but you're assigned to maybe five of them in a support role? It can be difficult to have a productive day to carve out those hours of productive time where you can focus toward a specific goal for your work. You have people coming in and out of your cubicle, your office or calling you on Zoom, asking you questions about their particular project. What can you do with a meeting in this case?
Why don't we have office hours or open coaching hours? Set aside time during the day where we're available for people to stop by and talk to us about their project. We already have a purpose of this meeting. It's to be available for questions. The agenda is not tied up so much. The people that are coming to talk to us are bringing the agenda. That's all fine and good if we have one or two people stop by. But what if you are filling a supporting role and you're really popular and there are a lot of people waiting to talk to you in your open office hours? Then you can treat it like a lean coffee meeting. It's this meeting set up where attendees can bring and define the agenda. Everybody's got their own topic they want to talk about so they can introduce their topics in one to two sentences to everyone. Then everyone has two votes. What are the priorities? What is it that we want to talk about the most? In this case, the attendees vote to prioritize the agenda for that meeting for the open office hours. So even if you're having a one-off meeting or you have open office hours, you would have a purpose for your meeting and you can still set an agenda.
Defining our meeting: we have our purpose, we have an agenda or we have a plan for how to create an agenda quickly at the beginning of our meeting. Now, we also need a facilitator. I would facilitate meetings quite often with a cross-functional team, cross-functional meaning with a lot of the supporting role people that were assigned to lots of different projects and then also to people that were project specific. Cross functional in that it would be marketing, sales, test engineers, the product design engineers, whoever needed to be there to have input and have a discussion for an end goal. Again, that's our purpose of the meeting. When I was a facilitator, I tried to be the best facilitator that I could be 'cause I understood that if I'm calling the meeting, the cost is not just my time. The cost is everyone else's time that I invite and that comes to the meeting. I would put effort into the purpose and the agenda and just in the meeting ahead of time, prepping everybody so that we could maximize the time that we had together. And because we had a clearly defined purpose and an end goal for why we're meeting, I would be able to guide the team through discussions toward an end goal, which was usually information, a design input, a decision about a test, a potential risk.
When I was a meeting facilitator, I would sometimes also use a quality tool based on why we were meeting. I knew the type of discussion that we needed to have as a group. We would use these quality frameworks during the meeting to create something together so that we could pool our collective knowledge, gather information, make assessments so we could move the project forward. So being a facilitator helps to plan the meeting, guide everybody through the information and through the discussion so that you can meet the purpose that you set out at the start.
I would say today's insight to action is that we can balance productivity with the meetings that we need to have: meetings with our team. They're necessary, especially for product design engineers and product development. We have the time. We can still be productive and have meaningful meetings with our team.
There seems to be some pretty strong feelings any which way about meetings, and different companies do things differently. It also depends on the company culture. So I'd like to know what are your thoughts about all of this? Let me know on the blog.
If you like the content in this episode, visit Quality during Design.com where you can subscribe to the weekly newsletter to keep in touch. This has been a production of Deeney Enterprises. Thanks for listening.