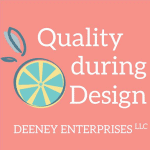 The Gifts Others Bring
What are the gifts others bring to new product development?
It takes intentional actions and acknowledgement to understand how to bring design inputs into our designs from other people.
We consider project teams like a neighborhood and how this frame of mind can help our designs.
Think of your project team as a mini neighborhood. They're your neighbors and they're there to help. If only you reach out to ask. Understanding what gifts and knowledge that they bring to the design process can maximize the decisions you make with the design during development.
Use Quality during Design techniques to provide some structure around your conversation so that you get the design inputs that you need.
Sometimes we feel all alone in design in that people don't understand how much time and effort and thinking that goes into anything that we produce. And it's true that design engineers are making decisions about the product all the time on their own. We can forget that we have a team that has gifts they can share both in their talents and their resources. These are gifts to product design and that we can get a lot of design inputs. They can also help us to do evaluations during the design process. We don't have to wait until the design output. When things are all done, people are looking at our design that we spent so much time on and start picking it apart and pointing out all the negative things. Let's consider some gifts that others can give us in product design if we only ask and if only proactive about it. After this brief introduction.
Hello and welcome to Quality During Design, the place to use quality thinking to create products, others love for less. Each week we talk about ways to use quality during design, engineering, and product development. My name is Dianna Deeney. I'm a senior level quality, professional and engineer with over 20 years of experience in manufacturing and design. Listen in and then join us. Visit quality during design.com.
Do you know what 12 things you should have before a design concept makes it to the engineering drawing board where your setting specifications. I've got a free checklist for you and you can do some assessments of your own. Where do you stack up with the checklist? You can log into a learning portal to access the checklist and an introduction to more information about how to get those 12 things. To get this free information, just sign up@qualityduringdesign.com. On the homepage, there's a link in the middle of the page. Just click it and say, I want it
Where I live, it's the time of year where it's cold and dark. Today is actually the winter solstice where I live, so it's literally the darkest day of the year as far as minutes of daylight. This is also when I tend to get together with family and friends more often. I'm lucky to live in a neighborhood of people that understand that it takes energy and work to get to know your neighbors, but it's worth it. Yes, we wave and this time of year we drop off cookies, cocoa or simmer pot ingredients to each other's door steps. And sometimes that's good enough, but it's even better when we make time for each other: talk about what's happening, organize a potluck picnic, catch up on text or even stop by with a cup of tea or coffee.
My neighbors know that if they need to borrow a tool or their kid needs some P V C pipe for a project or that their heat pump connection needs to be tightened, I can probably help them out and they need only ask. When they need a ride from the airport, we can help them out. If my suit needs to be tailored I talk with Delila. If our kids want to organize a summer party, Krista, Kim and Amy are the ones to get involved. We're not all besties, we're neighbors and we rely on each other for different things, our special gifts that we can offer.
This all got me thinking about product development teams. When I was onsite, it was like a neighborhood. We had different hoods. The marketing people were on the road. The quality and reliability engineers were clumped together in a section next to the copy room. The design engineers had their set of cubicles and the test engineers and others still on the other side of the building. We were all separated by function physically and there are reasons for that. It's good to commiserate with other people doing similar things or reporting to the same manager.
Today we have more remote work opportunities and the working neighborhoods are spread out even more, and this makes it all the more reason to be proactive and intentional with others on our team.
In the introduction I talked about gifts. We each have something unique to bring to the team individually. Stepping back one level, each group has something unique to add to the design inputs. If we only get to know them a little better, we could see how we can leverage their gifts and specialties to get information for our design decisions. We can use their help with a lot of design inputs, but also ways to evaluate the design process itself and then the design outputs.
I mentioned marketing first, that they were on the road. Marketing and field ops, they can help us get access to customers. They have the connections. They can help facilitate meetings between engineers and the customers themselves. They also have their finger on the pulse of the use environment. They have field information. They know the latest procedures and if there's industry specific procedures or SOPs that are coming out or are pending, they know the latest interfacing equipment and the trends of their use. Maybe there's a lot of buzz about a new pump that interfaces with our products. It would be helpful to know that information. They also are aware of new uses of old products and new needs, new users and new needs. It's been my experience that marketing and field operations people appreciate and like being part of the design process and that they're usually willing to help us get that input. We just need to have the right questions to ask or meet with them with particular goals in mind.
Our supplier management friends know all about our suppliers, what their capabilities are, and they also are aware of what kind of things to watch out for to make sure that the supplier vendor relationship is good for the long term for the project needs. But they do need to know from design engineers what the product needs. What are the kind of things that are important? What are the important quality characteristics? How can they be controlled by the vendor? What's the working relationship going to be for quality For this component? They can help manage the supplier relationship, but they need to know a little bit more about the design and design. Engineers need to tell them what's important.
The test engineers are all about testing the product against a standard, an internal requirement, an acceptance criteria for a test or an external standard. They know all about how to measure things, how to test things, the limits of tests and potential pitfalls or complications that could arise. They can also help set acceptance criteria and requirements that are testable and that makes sense if design engineers only approach them to this is what's important, and this is what I want to measure. They can help us set up those different tests.
And the last two groups of our cross-functional team that I'll bring up is of course the quality engineers and reliability engineers. These groups can be an independent reviewer of your design activities. Now, we all know that when we get into a zone and we're designing something, we could miss an important concept or feature or something that's happening with the product itself. We might overlook it and that's where an independent review from a fellow engineer or someone that's totally independent from your design, like the reliability and quality engineers can help with product design.
Reliability. Engineers are also looking closely at the way things fail and risk a failure. They're looking for weaknesses and we want to know this kind of thing so we can design it out and not have to just deal with it on the backend. They know how to look at a product to identify ways to make it robust. They can schedule tests and perform test recipes and interpret the results in order to help us learn more about our product to make better product decisions.
And our quality engineering friends are also about identifying and controlling risks wrists with the suppliers, with manufacturing and within the design itself. There's sort of experts at root cause analyses, so if you have a failure or a test problem, they can help you get to the root cause so you can can design it out or learn the most that you can about the product and quality engineers also look at ways to control or assess quality along the design change. They work parallel to the product throughout the development, acting as an aid and someone that has input that can help you make the best designs where you work.
You may have different players on your cross-functional team that you have access to or that are assigned to your product development project. Understanding what kind of gifts other teammates can give to product design development is one thing. Then actually getting that information for a design input or during the design process is (I realize) another thing, which is why I coach and teach the use of quality and reliability frameworks to be able to have those discussions with a teammate. Instead of just showing up and saying, "Hey, what do you know?" you can provide some structure around your conversation so that you get the design inputs that you need. That's part of what we're about here at Quality During Design.
What's today's insight to action? Think of your project team as a mini neighborhood. They're your neighbors and they're there to help. If only you reach out to ask. Understanding what gifts and knowledge that they bring to the design process can maximize the decisions you make with the design during development.
If you like this topic or the content in this episode, there's much more on our website, including information about how to join our signature coaching program. The quality during design journey. Consistency is important, so subscribe to the weekly newsletter. This has been a production of Deeney Enterprises. Thanks for listening!