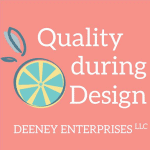 Ways to Gather Ideas with a Team
Sometimes we need to gather with our team and come up with some ideas, whether we're looking for new product ideas, trying to discover possible solutions, or we need to improve a service.
Gathering a team to come up with ideas is common. What are some of the ways we approach this activity? We talk about systematic and structured methods and new approaches to brainstorming.
Sometimes we need to gather with our team and come up with some ideas, whether we're looking for new product ideas, trying to discover possible solutions, or we need to improve a service. Gathering a team to come up with ideas is common. What are some of the ways we approach this activity? We talk about systematic and structured methods and new approaches to brainstorming.
Hello and welcome to Quality During Design, the place to use quality thinking to create products, others love for less. Each week we talk about ways to use quality during design, engineering, and product development. My name is Dianna Deeney. I'm a senior level quality, professional, and engineer with over 20 years of experience in manufacturing and design. Listen in and then join us. Visit quality during design.com.
Do you know what 12 things you should have before a design concept makes it to the engineering drawing board where you're setting specifications. I've got a free checklist for you and you can do some assessments of your own. Where do you stack up with the checklist? You can log into a learning portal to access the checklist and an introduction to more information about how to get those 12 things. To get this free information, just sign up at qualityduringdesign.com. On the homepage, there's a link in the middle of the page. Just click it and say, I want it.
In this episode, I wanted to review some of the ways that we generate ideas in new product development. There's a lot of academic studies about how engineers do design and how cross-functional teams work together, so let's review some of those ideas and some of the baseline activities that we do maybe daily as engineers in new product development.
We're sort of familiar with some structure, even though we're asked to be creative and come up with some innovative solutions. So it's not uncommon or out of the way for us to think of being innovative within a systematic inventive thinking or a closed world thinking. And this systematic approach is something that was introduced through the book Inside the Box, a proven system of creativity and breakthrough results written by Drew Boyd and Jacob Goldenberg. A main takeaway from this method is to constrain ourselves when we're trying to come up with novel, innovative ideas to change from thinking that anything's possible to what can we do with what we've got as engineering at work? We do this all the time. We're working within constraints, especially when we're trying to solve a problem, and there's some structured techniques with this approach. The authors came up with um, five templates for innovation, which are different ways that we can create or build our closed world. So for example, we can start subtracting things from whatever it is we're working with or trying to innovate. We can divide it with a division technique or multiply it, and those are just a few of the techniques that they use when working with groups to come up with new ideas. They have case studies and examples of all of these techniques in their book, and I covered this in a previous podcast episode, which I'll link to. I experience this all the time, not just in engineering, but it's almost like hobby of mine. I look at what it is I have and what can I make out of it. What kind of new thing can I cobble together to create something new and useful? I've created outdoor sinks and garden steps and fancy pen enclosures for just some of the more fun activities that I've done are just around the house. So thinking this way when it comes to new product design doesn't seem like that much of a stretch.
Another thing we can do to develop ideas with our group is to change our focus from finding the best solution and look at other things. For example, we could look at failures. What are all the ways this could go wrong? In fact, that's what the first course in the quality during design journey is all about. Designing for problems and risk. We can take a high level approach to problems with our greater cross-functional team to unlock new ideas about our product. Not only does this shift a viewpoint to look at failures, help us with some innovative ideas and to fix problems, we can also take this information and start evaluating risk with it – feed that information into F M E A failure mode effects analysis for which we can use for all sorts of things throughout the new development project. If you were thinking F M E A before I even said it, you have to message me and let me know that.
Another way that we can change focus from finding the best solution is instead of trying to come up with answers, we can brainstorm for questions. We can gather a small group and define our problem at a high level, set the clock for four minutes and generate as many questions and only questions as we can. We don't want to start answering the questions or trying to solve the questions that we're coming up with, and we wanna aim to produce at least 15 questions and then study them. Pursuing one of these questions to find an answer is likely to lead us down a path that has a solution that we just didn't expect. This is something that other people have had success with. I'll link to an article that gets into a bit more detail about using questions as the focus.
Something else we can do to generate ideas is design heuristics. There are common things that design engineers do to create new things. We can work in a team of people with a few heuristics to come up with a novel idea. The website designheuristics.com, host cards that have 77 design heuristics for design concept development. They differentiate this a little bit from TRIZ, the theory of inventive thinking, which we also talked about in a previous podcast episode. The idea is that you would gather a small group with three of these design heuristics and see if your group can develop a new idea based on those heuristics.
There's also structured problem solving techniques and improvement models like the P D S A plan do Study Act or the P D C A and DM A I C defined measure, analyze, improve, and control, and they are all based on the scientific method. These provide some team activity structure to move us from idea to implementation where instead of just flying into ideas we're first detectives in doing investigative work.
Within those structured problem solving techniques, we can do brainstorming. In that previous podcast episode about systematic inventive thinking, it's called, "Need to innovate? Stop brainstorming and try a systematic approach", and that's where I reviewed the book "Inside the Box" and included what the critics say about brainstorming. In next week's episode, we're going to be interviewing and talking with somebody that uses brainstorming in new product development. We're going to talk about best practices for brainstorming in general, but what I especially liked about talking with this guest is her approach to common brainstorming issues. We acknowledge that they're there and let's come up with a defensive plan against those issues. We touch on silent brainstorming and teaming, or breaking down the group into smaller groups. She also has a lot of advice about planning for a brainstorming session so that we can get the most out of it, and she shares the success that she's had, which I gotta admit is pretty impressive.
We'll be getting more into brainstorming as a way to come up with ideas with a team in next week's episode. Looking ahead to episodes, following that, we're going to be diving a bit into how to clean up after the storm, ways to organize, select, or screen that information that we've generated to make it more manageable and useful so we can devise those action items from that.
What's today's insight to action? There are many ways that we can generate ideas and come up with novel innovations with our greater cross-functional team. Many times they follow a structured team approach. Even brainstorming has some structure and facilitation involved with it. I think any one of these methods would probably work for our team to create innovative ideas. To do the same thing over and over again- it gets old. And the ideas that the team generates from using that same method over and over again – it can get stale. So we can mix it up and try something different. Maybe we'll generate the next great novel idea and our team can start off with some success.
If you like this topic or the content in this episode, there's much more on our website, including information about how to join our signature coaching program. The quality during design journey consistency is important, so subscribe to the Weekly newsletter. This has been a production of Deeney Enterprises. Thanks for listening.