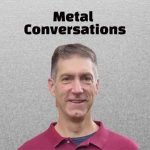 Design for Manufacturability
In this episode I discuss Design for Manufacturability related to component fabrication and joining components by welding, brazing, or soldering. Design for manufacturing is concerned with designing components and assemblies that can be repeatedly produced with consistent good quality without hassles, and at low-cost. DFM applies to primary component fabrication processes, secondary processing (coating, heat treating), and joining. Primary component fabrication processes include casting, extruding, stamping and other cold forming, forging, and machining. Secondary processes include heat treating, machining, and coating by painting, electroplating, anodizing and other processes. And joining includes welding, brazing, soldering, and using adhesives.
Michael Pfeifer is a metallurgist and metals engineer. He works with design and manufacturing clients to help with component materials selection, manufacturing process development, supplier evaluation, failure analysis and root cause analysis.
He received a B.S. and M.S. in Metallurgical Engineering from    University  of Illinois and a Ph.D. in Materials Science and   Engineering  from  Northwestern University. He is a Professional   Engineer, licensed in Illinois.
He's wrote a book – Materials Enabled  Designs. It teaches how to select    materials that optimize product  performance, reliability, and cost.
For more information about Michael go to https://www.imetllc.com/about/
Industrial Metallurgists offer metallurgy and metals engineering    consulting and training. The training is geared to design,    manufacturing, and quality engineers. More information about  Industrial   Metallurgists' services and training is at  https://www.imetllc.com/