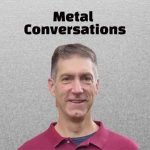 A Different Perspective for Seeing Products
How do you look at any product? See just a thing that performs a certain function? In this episode I discuss my perspective on how I see a product – as an assembly of materials – and how it influences how I help design products to meet performance, reliability, and cost goals.
---
Michael Pfeifer is a metallurgist and metals engineer. He works with design and manufacturing clients to help with component materials selection, manufacturing process development, supplier evaluation, failure analysis and root cause analysis.
He received a B.S. and M.S. in Metallurgical Engineering from    University  of Illinois and a Ph.D. in Materials Science and   Engineering  from  Northwestern University. He is a Professional   Engineer, licensed in Illinois.
He's wrote a book – Materials Enabled  Designs. It teaches how to select    materials that optimize product  performance, reliability, and cost.
For more information about Michael go to https://www.imetllc.com/about/
Industrial Metallurgists offer metallurgy and metals engineering    consulting and training. The training is geared to design,    manufacturing, and quality engineers. More information about  Industrial   Metallurgists' services and training is at  https://www.imetllc.com/