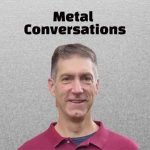 Learning and Professional Development
In this episode I discuss learning and professional development. There's so much to know to be an engineer and college courses cover the tip of the iceberg, even if you go to grad school. I learned this early in my career as I was faced with decisions and problems related to topics that I never encountered in school. I also learned that I had to shoulder the responsibility of learning the topics. Some of the learning came from colleagues, some came from taking short courses, and some came from reading textbooks and technical journals. In this episode I discuss my learning experiences and philosophy about learning, the pitfalls of relying on learning just from experience, and resources for learning and professional development.
Michael Pfeifer is a metallurgist and metals engineer. He works with design and manufacturing clients to help with component materials selection, manufacturing process development, supplier evaluation, failure analysis and root cause analysis.
He received a B.S. and M.S. in Metallurgical Engineering from    University  of Illinois and a Ph.D. in Materials Science and   Engineering  from  Northwestern University. He is a Professional   Engineer, licensed in Illinois.
He's wrote a book – Materials Enabled  Designs. It teaches how to select    materials that optimize product  performance, reliability, and cost.
For more information about Michael go to https://www.imetllc.com/about/
Industrial Metallurgists offer metallurgy and metals engineering    consulting and training. The training is geared to design,    manufacturing, and quality engineers. More information about  Industrial   Metallurgists' services and training is at  https://www.imetllc.com/