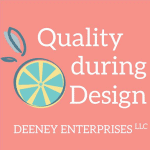 Crucial Conversations in Engineering, with Shere Tuckey (A Chat with Cross-Functional Experts)
Dianna Deeney interviews Shere Tuckey about Crucial Conversations® in an engineering environment: how to prepare for and have difficult conversations with peers, managers, and everyone else. Shere gave a conference presentation about Crucial Conversations® titled, "How to be Persuasive Rather than Abrasive."
This interview is part of our series, "A Chat with Cross Functional Experts". Our focus is speaking with people that are typically part of a cross-functional team for new product development. We discuss their viewpoints and perspectives regarding new products, the values they bring to new product development, and how they're involved and work with product design engineering teammates.
About Shere
Shere is a Branch Chief in the Air Force Research Laboratory, Munitions Directorate, Eglin Air Force Base, Florida. She is responsible for advocating, planning, budgeting, organizing, and directing the execution of a high-priority technology development portfolio as well as direct supervision and management of all personnel within the branch. Over the last twenty-nine years, she has managed twelve different teams across many engineering disciplines from shock physics experimentation to weapon effects modeling and simulation.
Shere has taken a special interest in leadership, mentoring, and helping teams communicate effectively. After being asked to serve as the Dean of Leadership for her organization's workforce development program, she became certified to teach the Crucial Conversations® course as a foundational element of leadership development.
She has taught five highly rated classes to high level managers, junior employees, and everyone in between. The positive feedback received from these classes and the course's universal applicability, has motivated Shere to share this knowledge in as many forums as possible.
Shere and Dianna talk about:
what makes a dialogue a Crucial Conversation®
how she discovered the Crucial Conversation® framework
why she trains others at her work in the Crucial Conversations® model and champions its use
Shere also shares stories of success.
Listen to take your communications skills to another level, at work and everywhere else.
---
Crucial Conversations®
One skill of Crucial Conversations® is to master our own stories, and to follow a 3-part model when starting a conversation:
Share your facts
Tell your story (i.e. the conclusion you are drawing from these facts)
Ask them for their perspective.
"You can argue as strongly as you want for your opinion as long as you are equally vigorous in encouraging others to disagree."  – Ron McMillan, author
What can you do today?
Shere says, "The most impactful skill one can adopt is to assume good intent in the other person, even if you don't quite see it… this will help you start with heart and not in an already defensive position."
---
Shere's recommendations and links to good materials to learn more
Website of information about Crucial Conversations®: https://cruciallearning.com/crucial-conversations-for-dialogue/
Book: Patterson, Kerry, et al. Crucial Conversations Tools for Talking When Stakes Are High, Second Edition. Italy, McGraw-Hill Education, 2012.
Videos:
Stop Stewing and Start Doing: https://www.youtube.com/watch?v=-9sv4ZnLqFs
Use the Facts to Master your Story: https://www.youtube.com/watch?v=w7ozcQOPq9g
How do I start a Crucial Conversation: https://www.youtube.com/watch?v=V7c5nh5OSc8
How to Listen to Someone you Don't Respect: https://www.youtube.com/watch?v=4u1itk83RjA
---
Other Quality during Design podcast episodes you might like:
Product Design from a Marketing Viewpoint, with Laura Krick (A Chat with Cross Functional Experts)
Product Design from a Data Professional Viewpoint, with Gabor Szabo (A Chat with Cross Functional Experts)
Product Design with Brainstorming, with Emily Haidemenos (A Chat with Cross Functional Experts)
Thanks for listening.