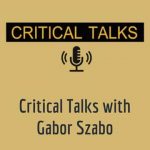 CT E07 Part 1: How To Cultivate Skills That Stick Through Active Learning with Keith Fong
In Part I of Episode 7, my recurring guest, the phenomenal Keith Fong and I take you to a chat that will be worth your time!
Learning is an essential activity for any individual or organization; it is through learning that you develop skills you don't currently possess or develop a higher level of competency in a given skill. Yet, one wonders why conventional training methods organizations typically utilize (classroom-type, lecture-type or through consultants) don't deliver on their promise of making the participants competent in the subject matter.
Episode summary:
Training in organizations Why is the lecture-type (a.k.a. industrial) approach to education and training not effective and is really "the easy way out"?  What is the active learning model? Leadership's reponsibility; everyone is a leader. "If the student doesn't learn, it is the teacher's fault" An example of a successful active learning program implementation (featured in Part 2 of the episode)