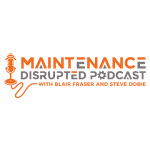 MD 180 Lubrication Sustainability, Benchmarking and Certification with Fluitec
The word 'sustainability' is widely used and yet not always well understood.  We chat with  Pierre Vanderkelen, CEO at Fluitec about the different types of corporate 'sustainabilities' as well as the 17 United Nations Sustainable Development Goals and how your company can advance each one.
We then chat with Greg Livingstone, Chief Innovation Officer at Fluitec about the several interesting findings on how turbine oils degrade, what chemistries provide optimum performance, and hints to the future of turbine oil formulations as well as ICML's Varnish and Deposit Identification and Measurement (VIM) certification.
If your company sells products or services to engaged maintenance & reliability professionals, tell your marketing manager about Maintenance Disrupted.  If you'd like to discuss advertising, please email us at maintenancedisrupted@gmail.com
Check out our website at www.maintenancedisrupted.com and sign up for the weekly disruption newsletter with bonus content. If you like the show, please tell your colleagues about it and follow maintenance disrupted on LinkedIn and YouTube.
Follow Maintenance Disrupted on LinkedIn
https://www.linkedin.com/company/maintenancedisrupted
Music: The Descent by Kevin MacLeod
Link: https://incompetech.filmmusic.io/song/4490-the-descent
License: http://creativecommons.org/licenses/by/4.0/