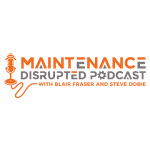 MD 173 Finding a Job in Maintenance & Reliability With Carl Kaufman, Mike Persson, & Allyson Hawley
Searching for a job is hard! Whether you currently have a job, lost your job, or quit your job, finding that next one is a daunting task. In this weeks episode our panel discusses searching for a job. Some great tips on how to get your resume noticed, perform better in interviews, and ultimately land that dream job.
Episode Shout Outs:
Mike Persson – https://www.linkedin.com/in/mikepersson/
Carl Kaufman – https://www.linkedin.com/in/carlkaufman4/
Allyson Hawley – https://www.linkedin.com/in/allyson-hawley-9906a494/
KPO Staffing – https://www.kpostaffing.com/
If your company sells products or services to engaged maintenance & reliability professionals, tell your marketing manager about Maintenance Disrupted.  If you'd like to discuss advertising, please email us at maintenancedisrupted@gmail.com
Check out our website at www.maintenancedisrupted.com and sign up for the weekly disruption newsletter with bonus content. If you like the show, please tell your colleagues about it and follow maintenance disrupted on LinkedIn and YouTube.
Follow Maintenance Disrupted on LinkedIn
https://www.linkedin.com/company/maintenancedisrupted
Music: The Descent by Kevin MacLeod
Link: https://incompetech.filmmusic.io/song/4490-the-descent
License: http://creativecommons.org/licenses/by/4.0/