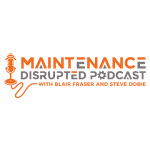 MD 195 Back to the Basics – Fundamentals of Ultrasound Inspection with Adrian Messer of UE Systems
In the Back to the Basics series, we get to the foundational knowledge of a specific technology or methodology in the maintenance and reliability field.  This week we welcome Adrian Messer to the show to discuss the fundamentals of Ultrasound Inspection.  We discuss what is ultrasound, what applications it is used for, how to start up an ultrasound program, and what to look out for!
If your company sells products or services to engaged maintenance & reliability professionals, tell your marketing manager about Maintenance Disrupted.  If you'd like to discuss advertising, please email us at maintenancedisrupted@gmail.com
Check out our website at www.maintenancedisrupted.com and sign up for the weekly disruption newsletter with bonus content. If you like the show, please tell your colleagues about it and follow maintenance disrupted on LinkedIn and YouTube.
Follow Maintenance Disrupted on LinkedIn
https://www.linkedin.com/company/maintenancedisrupted
Music: The Descent by Kevin MacLeod
Link: https://incompetech.filmmusic.io/song/4490-the-descent
License: http://creativecommons.org/licenses/by/4.0/