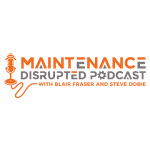 MD 177 What Does the Next Generation of Maintenance Look Like?
"What is the next generation of maintenance?" The answer to that question lays squarely within our control. "As technology gives birth to new ways of working, those who are unable to access new technology will fall behind, while those with the resources needed to build and deploy it will enjoy ever greater success. "
AI will augment innate human traits like creativity and sensitivity in ways that will allow us to solve new problems and redefine the future of maintenance. In this session we'll discuss how we all can take an active role in defining what the next generation of maintenance is, how it's valued and how it's done.
If your company sells products or services to engaged maintenance & reliability professionals, tell your marketing manager about Maintenance Disrupted.  If you'd like to discuss advertising, please email us at maintenancedisrupted@gmail.com
Check out our website at www.maintenancedisrupted.com and sign up for the weekly disruption newsletter with bonus content. If you like the show, please tell your colleagues about it and follow maintenance disrupted on LinkedIn and YouTube.
Follow Maintenance Disrupted on LinkedIn
https://www.linkedin.com/company/maintenancedisrupted
Music: The Descent by Kevin MacLeod
Link: https://incompetech.filmmusic.io/song/4490-the-descent
License: http://creativecommons.org/licenses/by/4.0/