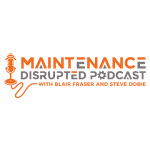 MD 178 So Many Answers, Why Are There Still Questions with Cliff Williams
One thing that spending so much time online has highlighted is that there are a lot of good people out there with answers to most problems. Whether you are searching for lubrications issues, Planning and Scheduling help or guidance on how to carry out effective Root Cause Analysis, there are organizations that have proven results and help on these and many more topics.
When I look at what's on offer today and the many offerings I've seen over the many years in Maintenance and Reliability I come to the conclusion that the problems haven't really changed. This then leads me to ask – if these great tools are out there – then why are organizations plagued by the same problems?
The answer seems to be with the organizations and not the quality or amount of training and help available. When people return from training or when the trainer leaves the site – has the organization prepared the ground to plant these seeds of wisdom or are they just going to try and super-impose the new solution on their old problem.
Do they realize that to improve they need to change something and that the change needs to be managed – more often than not it's the culture of an organization that causes the challenges – can they change that? Join me in this session to discuss ways to make the money and effort spent of training and development more effective – and so help your organization make the improvement it wants
Check out our website at www.maintenancedisrupted.com and sign up for the weekly disruption newsletter with bonus content. If you like the show, please tell your colleagues about it and follow maintenance disrupted on LinkedIn and YouTube.
Follow Maintenance Disrupted on LinkedIn
https://www.linkedin.com/company/maintenancedisrupted
Music: The Descent by Kevin MacLeod
Link: https://incompetech.filmmusic.io/song/4490-the-descent
License: http://creativecommons.org/licenses/by/4.0/