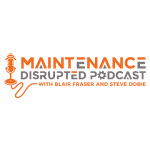 MD 167 Exploring the root causes of Microdieseling with Sanya Mathura
When a challenge arises due to lubrication degradation, the main focus is applied to solving the issue. Many times, this focus is placed on the physical roots or the things we can physically change. Once these physical roots are "solved", we often realize that the underlying degradation issue appears again. Therefore, it is necessary to examine the real root causes and dive a bit deeper. Typically, most challenges have three types of roots, physical, human, and latent or systemic.
Check out the 2021 Lubrication & Reliability Virtual Summit Here:
https://lrvs.zohobackstage.com/LRVS2021#/?affl=MaintenanceDisrupted
If your company sells products or services to engaged maintenance & reliability professionals, tell your marketing manager about Maintenance Disrupted.  If you'd like to discuss advertising, please email us at maintenancedisrupted@gmail.com
Check out our website at www.maintenancedisrupted.com and sign up for the weekly disruption newsletter with bonus content. If you like the show, please tell your colleagues about it and follow maintenance disrupted on LinkedIn and YouTube.
Follow Maintenance Disrupted on LinkedIn
https://www.linkedin.com/company/maintenancedisrupted
Music: The Descent by Kevin MacLeod
Link: https://incompetech.filmmusic.io/song/4490-the-descent
License: http://creativecommons.org/licenses/by/4.0/