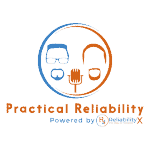 Leadership w/ Tom Moriarty
Thomas J. Moriarty, PE, CMRP is president of Alidade Maintenance Engineering and Reliability, Inc. (Alidade MER). Founded in 2004, its mission is to help others lead full and satisfying lives through organizational reliability and productive leadership; particularly in physical asset management, operations, maintenance and reliability engineering.
As a consultant, Tom has worked across many communities of practice including oil & gas, chemical, mining, pharmaceutical, food & beverage, research universities, aerospace manufacturing, packaging, power generation, water/wastewater, waterway infrastructure and military. This breadth of experience has contributed to 'cross-pollination' of best-practices among these communities.
Tom became a member of the Society of Maintenance and Reliability Professionals in 2002 and is currently the Government Relations Committee Chairman, a Florida Chapter Board Member, the Florida Central East District Director and a CMRP since 2003. He is also an ISO Certified Asset Reliability Practitioner (Associate, Engineer and Leader). He has additional credentials in RCM, Root Cause Analysis and predictive maintenance technologies.
Since 2008, Tom has been author of a monthly column on leadership in Plant Services Magazine (2010 Gold Award, and 2019 nominee, American Society of Business Publication Editors). He has authored a book titled "The Productive Leadership System; Maximizing Organizational Reliability" available through Amazon and Industrial Press.
Tom earned a Professional M.B.A., from the Florida Institute of Technology (with a concentration in Organizational Development). He has a B.S. in Mechanical Engineering from Western New England University (Marston Award, Tau Beta Pi National Engineering Honor Society). He was the American Society of Mechanical Engineers past Chair of the Canaveral, FL Section 2005-2006, and a licensed professional engineer (PE) in Florida.
Tom was a U.S. Coast Guardsman for 24 years, retiring as a naval engineering Lieutenant Commander in 2003.  Prior to earning his commission, Tom was an enlisted Machinery Technician for over nine years. In 2003 Tom was honored by the National Society of Professional Engineers (NSPE) by being selected U.S. Coast Guard Federal Engineer of the Year for his accomplishments in work management (increased labor effectiveness by 31%) and by implementing a condition monitoring and precision maintenance program.
Tom can be reached at (321) 773-3356 (ofc), (321) 961-4306 (cell) or tjmpe@alidade-mer.com; Twitter: @AlidadeMer, LinkedIn: https://www.linkedin.com/in/alidade-mer, website: www.alidade-mer.com.