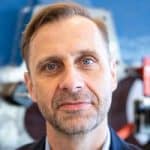 Machinery Installation: Integrity with Roman Megela
We're excited to have Roman Megela joining us. He's a senior reliability engineer with Easy-Laser. Before that, he was a service manager, and he also worked in the service engineering field. Roman's primarily worked with rotating equipment for over 20 years. He's dealt with glass production and stainless-steel production.
He's also been involved in oil and gas, mainly dealing with oxygen gas compression systems. He dealt with blowers, compressors, fans, and pumps for oxygen production, among others. Roman's career specialty, however, lies in machinery installation, assembly, and their placement. He's also been a commissioner for oil and gas, commissioning these globally in areas such as the US, Asia, Singapore, and Europe.
Roman will give us insight on:
What machinery installation is
Why proper machine installation is important
What integrity is and how it can apply during machine installation procedures
… and so much more!
What is machinery installation?
Machinery installation is an essential phase in every machinery's lifecycle. It's the first moment of bringing machinery into the production.
Why is proper installation necessary?
The installation process has a direct impact on the machinery. It'll determine the operating conditions in the performance and lifecycle cost. How the machine gets installed determines how it'll behave. Thus, it helps to minimize premature failures once installed.
Elements to a proper machinery installation program
Proper installation can be broken down into three main elements. These are:
Integrity
Strategy
Planning
Our focus for this session falls on integrity.
What is Integrity?
Integrity is showing consistent adherence to moral or ethical procedures. It's when you stick to what you say you're doing. There's usually a lot of stress, deadlines, and a lot of equipment to install at the site. You have different cultures coming together. That's because everyone is used to working in a certain way.
Integrity thus helps to create trust in the procedures you wish to undertake. It also ensures the people you're working with are taking their roles seriously. Integrity applies to all involved individuals, from the installers to the project manager.
How do you leverage integrity?
Integrity must be addressed from the onset of the project. Afterward, you need to give your team the time and space to handle their specific duties. The API Recommended Practice 686 offers recommended practices for machine installation. That means you only need to collect the necessary data as you're not inventing anything.
There are a lot of standards to follow to have the correct procedures. These include ANSI standards, ISO standards, and API standards to outline proper procedures.
But you may come across machines or a layout that wasn't designed properly. Such an issue makes it difficult to install it correctly. For this, you need to inform everyone involved so that you can raise their awareness levels. Those involved in the installation with then be able to tell you the way forward. This helps to mitigate whichever risks could come about.
How can you improve your machinery installation process?
Some of the top three recommendations for this include:
Establishing a standard – a team, company, or organization standard will pave the path for getting things done. Apart from the group you're working with, ensure the suppliers are also involved.
Doing training – once you have a standard, you need to train the entire team on the installation process. Everybody needs to understand and follow the set procedure.
Documentation – You need to collect all the necessary data and create reports, following the set standard. These will serve as a future reference point whenever needed. The reports are the only way to understand what happened in past projects
Below is a brief explanation of the last two elements for proper installation.
– Strategy
This is a high-level plan created to achieve goals under uncertain conditions. It's a key thing in the machine installation process as it defines the standards.
– Planning
This is a function where the team sits down to outline what needs to get done and by whom. It also decides when and how those processes will get done.
Final thoughts on Integrity
There's a lot of assumption in the machine installation process. As engineers, measuring and calculating are essential parts to achieving results. Thus, assumptions need to get done away with because they create room for errors.
Eruditio Links:
Roman Megela Links:
227 – Machinery Installation: Integrity with Roman MegelaJames Kovacevic
Rooted In Reliability podcast is a proud member of Reliability.fm network. We encourage you to please rate and review this podcast on iTunes and Stitcher. It ensures the podcast stays relevant and is easy to find by like-minded professionals. It is only with your ratings and reviews that the Rooted In Reliability podcast can continue to grow. Thank you for providing the small but critical support for the Rooted In Reliability podcast!