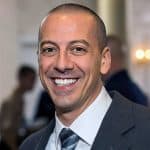 Determining Training ROI with Lucas Marino
It is my pleasure, to welcome back Lucas Marino to the podcast, working at The East Partnership dealing with submarine logistics.
In this episode we covered:
Why do you need training?
How do we calculate that ROI?
Why are organizations hesitant to invest in training?
There are a lot of organizations that are hesitant to invest in training for a lot of different reasons. Why is that?
They're trying to determine if the value in the investment is sufficient. If you're tying the training to something that really means something to them and they feel like training is a suitable solution to that problem set that they have, they're more willing to invest in it. I think a lot of it is just awareness; not being aware of how much there is to benefit from getting your team trained. Training doesn't feel like an immediate solution, but it can really turn things around quickly.
Why do you need training?
There's two parts to it. Some issue training is identified as a suitable solution and it's a more worthy investment than alternatives are. The ROI must be aligned with the drivers and the business goals for sure. Sometimes they are high, like pie in the sky, high level; they strategic level who make the business decisions. And other times they're lower, closer to the department or the division level. Part of the struggle with running a training business is making sure you're talking to the right people.
How do we calculate that ROI?
The reason ROI gets with training is that people are looking for the wrong return. There are some very tangible, easy to capture metrics that you could put in place. You could look at targeted training for things that are specific. If you can cut down on that time, spend time to prepare for executing and buttoning up the maintenance, then you just get a significant return on your investment because it stabilizes maintenance, and it makes it more efficient across all the fronts. You must be intentional. You're going to invest, and then you're going to measure it on the back end.
People appreciate investments in their development. And if you can invest in the development of your staff and show them that you care enough about them doing their job, that you want to help them improve their job, their environment, their skills, their confidence, their cap abilities, then it's more than just an immediate return on the program. If you don't know what you're trying to improve with this training, you can't calculate the return on investment and why you need to do it.
How do we convince people that I need to learn more about say maintenance management, not a specific thing like RCA, but more the general overview, leading teams?
You can look at related metrics. There's no direct metric for a lot of that. You can look at things that are influential to buy those elements of your organization; retention rates, recruiting rates, doing internal surveys on employees, satisfaction and all these things. You can start to measure retention. Measure the strength of recruiting. Look at whether people progress through your organization or not. You can sweeten the pot on opportunities within the organization. Use the training apparatus to provide them with valuable skills and knowledge that meets needs.
How do people get your training?
On eastpartnership.org. Or you can just grab a hold of me on LinkedIn. I've got some resources I could send to you that might be good options or help you find someone. We also help companies launch their own training businesses. If you're an entrepreneur, a small business and you want to take your expertise and share it with the world and you don't want to necessarily try and figure out for yourself; all the stuff that comes with it, like running a learning management system and all the business decisions that come along with shifting to a training model, then we can help you with that as well.
Eruditio Links:
Lucas Marino Links:
Rooted In Reliability podcast is a proud member of Reliability.fm network. We encourage you to please rate and review this podcast on iTunes and Stitcher. It ensures the podcast stays relevant and is easy to find by like-minded professionals. It is only with your ratings and reviews that the Rooted In Reliability podcast can continue to grow. Thank you for providing the small but critical support for the Rooted In Reliability podcast!