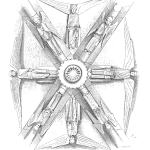 How to Make a Decision
podcast episode with speaker Chris Jackson
If nothing changes, then nothing changes. Change happens when we decide to do something. The status quo remains if we decide to do nothing. We make decisions every day. We do it so often that it might seem like a trivial thing to do. But we so often get it wrong. We might be influenced by emotion, prejudice, time pressure, budgetary stress, or 'mental comfort.'
Sometimes we don't know what the actual decision is that we are busily trying to find information to inform. Sometimes we don't know what we are trying to achieve. And sometimes … all this results in lots of effort (to make us feel good about doing something) without the right decision being made.
This webinar takes you through the key steps of decision-making – particularly relating to reliability engineering. This includes how we go about testing and other activities to help keep us on track. And you might be surprised how much time and effort you save by making decisions right!
This Accendo Reliability webinar originally broadcast on 25 May 2021.
How to Make a DecisionChristopher Jackson
---
To view the recorded video/audio of the event visit the webinar page.