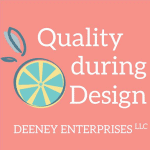 Book Cast
Where do we sometimes need to look for inspiration?  Books!
We talk about 11 books in 5 different topics that are useful for different perspectives on engineering and design topics.
And I tell you what I'm most looking forward to reading next.
What book recommendations do you have for me? Please add them to the comments, below.
Share with me: what should I read next?
Add a comment, below. Or send me a message on email or Linked-In.
My Goodreads Account
Follow me to find out what I'm reading: www.goodreads.com/diannadeeney
Recommendations for Engineering & Design
Books I'm going to be reading really soon
A way of reading that I'm going to try
12 books at a time?

Citations:
Other Quality during Design podcast episodes you might like:
Need to innovate? Stop brainstorming and try a systematic approach.
Episode Transcript
Do you ever get stuck and uninspired? Of course you do. We all do, and that's when I reach for a book. Let's talk about some of the books that I recommend for people working in product design engineering. You never know, maybe you'll learn something new. Be able to adapt something to apply it to what you are doing. Let's talk about it after the brief introduction.
Hello and welcome to Quality During Design, the place to use quality Thinking to create products, others love for less. Each week we talk about ways to use quality during design, engineering, and product development. My name is Dianna Deeney. I'm a senior level quality, professional and engineer with over 20 years of experience in manufacturing and design. Listen in and then join us. Visit quality during design.com.
Do you know what 12 things you should have before a design concept makes it to the engineering drawing board where you're setting specifications. I've got a free checklist for you and you can do some assessments of your own. Where do you stack up with the checklist? You can log into a learning portal to access the checklist and an introduction to more information about how to get those 12 things. To get this free information, just sign up at qualityduringdesign.com. On the homepage, there's a link in the middle of the page. Just click it and say, I want it.
My husband is an avid reader and he watches book YouTubers and these are people that are on YouTube that have channels that read a lot, and then they review and give their thoughts and share ideas with their audience about the book that they've just read. They go pretty in deep about it and I'm not gonna do that here, but I think quality during design could have a book cast once in a while. I really have 13 books I wanna share with you. These are books that I have read in the past or that I'm planning to read in the near future, and they come in about six different categories. I hope with today's podcast that you can hone in on whatever category you think you may want to explore more, and then have some options of books that you can borrow from your library from a friend or online and give them a read.
The first section or category of books I wanna tell you about has to do with data presentation. We have to give design reviews or technical presentations about whatever we've been working on in the lab. We write reports. These are main ways that engineers communicate with a broader team and it's important that we do it well. Otherwise, people may not make the right decisions or make decisions based on the wrong idea about the the data that we're presenting. There are really four books in this category that I recommend, and it's not that I follow or prescribe to any one idea out of any one of these books. It's if I read through them and read across them, you can start to create your own style that's based on proven communication methods. The first book in this section is called The Craft of Scientific Presentations, critical Steps to Succeed and Critical Errors to Avoid, and it's authored by Michael Ally.
He is a professor at Penn State University, my alma mater. He noticed problems with students and academic presentations that were focused on something technical. There wasn't a good communication way to do it when there were a lot of bullet points, so he developed an assertion evidence model of presenting technical information. He explores why this method works and he also explores other things about psychology and communication studies and what experts have found. There are a lot of great ideas and examples in that book, so I highly recommend it. A book that sort of goes along with that is called Beyond Bullet Points, using Microsoft PowerPoint to create presentations that inform, motivate and inspire, and this was authored by Cliff Atkinson. This book is focused on Microsoft PowerPoint presentation software and is also published by the Microsoft Press, so take that into consideration as you're looking into the details of this book.
It conflicts somewhat with some of the other presentation books that are out there, but that's why I'm recommending a grouping of books regarding presentation of technical data. There's still a few gems of information and the beyond bullet points, so give it a read and it'll help you develop your presentation skills within that same topic of presenting our technical information. There is a book called slideology, the Art and Science of Creating Great Presentations and authored by Nancy Dote. In this case, it's using PowerPoint presentation software to create a document that's meant to be read, not something that is projected on the wall, but a different format and presentation of technical information that's more digestible to a broader audience. I have used this format with success and I know of other people I told about that used it and they loved it too. They got great results with it.
Being able to communicate something technical, taking it out of the black and white Word document template format and putting it into a format, breaking it out, being intentional with the graphics, all of of that can make a real difference in how we communicate our technical information and what people can understand about it. And speaking of graphical representation of data, I'd be remiss if I didn't mention Edward Tuft. One of his books is The Visual Display of Quantitative Information. Edward Tuft is a professor at Yale I I think he still is. He has this love of art and he has the love of scientific information and he melded them together into a successful career talking about how these two things intersect and interact and how humans interpret and understand information based on graphical methods. It's a really neat and very beautifully designed book. I highly recommend it.
Let's shift from this topic of technical presentations into something a little bit different, but still based on artistic elements, and that's the design of Everyday Things by Don Norman. This book, the Design of Everyday Things is really something that any product designer should have on their bookshelf or read through. He published the first edition in the 1980s and then he updated it in the 2010s. He talks about design for use and design for safety. There's a lot of interesting topics in there. I'm sure you'll be able to glean ideas and have your eyes open to other possibilities and different viewpoints about product design. Let's transition into the next group of books, which is really about business and understanding how business works. There are two books in this category and both of them are pretty heavy. I'll admit it. The first book is Financial Intelligence. A Manager's Guide to Knowing What the Numbers really mean written by Karen Berman.
If you are in engineering, you may not have been exposed to all the financial aspects of a business, but you're directly affected by it, especially if you are asking management for time to do a test to create a new feature and really plan for the product development process. This book takes some of the mystery out of the accounting stuff in business, like the balance sheets and return on investment, where the numbers come from and how managers view and manage that. It's not a light read, but I found it was very valuable. The other business type of book I would recommend is called The Value of Innovation, knowing, proving and Showing the Value of Innovation and Creativity, A Step by Step Guide to Impact and ROI Measurement authored by Jack Phillips and Patricia Pullum Phillips. That's a pretty long title for this book, and inside it can get a little bit heavy.
It's based on the teachings of the ROI Institute. ROI is return on investment. It recommends ways that we can look at innovation against a return on investment using the data pyramid and the data pyramid works its way up from the inputs from people, time and money to reaction learning application, the impact which is the output, quality, cost and time, and finally to the return on investment, the roi. If you are in product design engineering and you are looking at what kind of return on investment that your new project or innovation idea could have on the bottom line of the company, it'd be useful to have this book on hand and give it a read, highlight some of the chapters. It'll give you ideas for how you can collect information to show ROI and to better communicate with the people that are concerned about the business financials along the lines of understanding businesses, the financial situation, the return on investment.
There's also understanding quality and where that stands in the broad scheme of things. Quality Disrupted is edited by James Klein and it's really a look of the future of work of the quality profession and it how it fits into all of these new innovations, certifications, the business world. If you wanna learn more about the current challenges of quality and where the quality professionals may be coming from with certain initiatives and ideas, this book may help give you that kind of perspective. Dr. Klein authored sections of this book and other sections are a collection of articles from other quality professionals originally published on the CM Risk Insights e-magazine. I was honored to be a part of this project.
The next book I'm going to recommend is a textbook, but I think it's a really good one. It's called Sampling, design and Analysis by Sharon Lore. I originally got this book to help me with a project I was working on with a client about a sampling plan and a sampling system. Make no mistake, this is a heavy textbook in that the concepts that are explored in it are really for die hard math people, but it's done in a way that I think is approachable. It's well organized, it's very thorough. It's a book that I have on my bookshelf that I will reference again in the future. If you are designing tests and worried about what kind of sampling you can do. If you're designing surveys for your customers, anytime you want to consider some sort of statistical sampling and you're really not sure where to go or what the first steps should be to approach that, then I recommend this book, sampling, design and Analysis.
Now, I don't read all textbooks all the time. In fact, most of the books that we've gone over so far, I guess have been pretty technically heavy, lighter books that I also appreciate are standout. Networking, A simple and authentic way to meet people on your own terms, authored by Dory Clark. We need to network with other people, whether it's within our own company, outside of our company, it's easier now to network than it was in the past if only because we now have more ways to do networking, but networking is a skill that we need to develop and sometimes with all these new ways of communicating, we need to develop new ways of networking. Standout Networking is a book that helps explore those kind of topics. If you are looking to do more networking, then I recommend Standout Networking. Another very approachable book that's also has a sense of humor is the Coaching Habit.
Say Less, ask More, change the Way You Lead Forever Written by Michael Bunge, stainer, I think in the engineering profession, at some point we're going to be coaching somebody else. It could be a new hire for the company, could be someone that's transferring out of the test lab into new product development. You could already be a manager of other people. The Coaching Habit book has ideas about how to coach without just stepping on, stepping in and taking over. It gives you a framework with which you can do this, and it's honestly pretty easy. If you wanna improve how you communicate with other people on your team and you want to do more coaching and less jumping in and taking over. Then read The Coaching Habit. I gave quite a list of books, so I'm going to put together a bookshelf on my Good Reads account.
If you have good reads, you can follow me or Friend me and you'll find that I have a shelf that's called Red Quality During Design. All of these books will be listed there. You can click on them, find out more information and figure out how to get a copy that you can read. I have two books that I'm going to be reading. One is The Lean Product Playbook, how to Innovate with a Minimum Viable Product and Rapid Customer Feedback, and that's written by Dan Olson. The other book that I'm looking forward to reading is Moonshot, how to Nurture The Crazy Ideas That Win Wars, cure Diseases, and Transform Industries Written by Safi Baha. I mentioned earlier that my husband is an avid book reader and watches book tubers. There's an episode I saw where someone was reading 12 books at a time, and she found a lot of benefits in doing so.
She mixed up the genres of books, so she wasn't always reading tech heavy books at one time, but mixing it in with autobiographies and fiction and other genres that she liked to read. She read more books that way than if she had just tried to read one book at a time. I'll share her video on this episode blog, but it's something that I'm going to try, so I have an ask of you what engineering career work type books have you read in the past that you think I should read, or what are the ones that you're most looking forward to reading that maybe I haven't talked about? Let me know in the comments on the podcast blog, and maybe we can start sharing a community of different books that we find useful. I look forward to hearing what you have to recommend because like that book Tuber, I wanna start reading more books at one time and see if I can increase the number of books that I can read in a year, because besides just reading books and being productive with it, it gives me great ideas that I can apply and share with you.
If you like this topic or the content in this episode, there's much more on our website, including information about how to join our signature coaching program. The quality during Design journey, consistency is important, so subscribe to the Weekly newsletter. This has been a production of Deeney Enterprises. Thanks for listening!