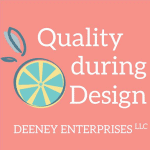 Exploring Product Development and AI Through Literature:
Insights from 'Loonshots', 'AI 2041', 'Quit', and "How Big Things Get Done' (QDD Book Cast)
Ever wondered how the world of product development can be viewed through the lens of a physicist? How the future of AI will impact our existence? What a champion poker player has to say about quitting, and what we can learn about product development from an architect?
This week, we dive headfirst into those questions with four fascinating reads: 'Loonshots' by Safi Bahcall,  'AI 2041' by Kai Fu Lee and Chen Quifan, 'Quit' by Annie Duke, and 'How Big Things Get Done' by Bent Flyvbjerg and Dan Gardner.
These books have reshaped my perspective and I believe they hold interesting insights for you too. We'll explore how these books apply to new product development projects and how they can help us do it better. I also share why I thought some were better together, read in pairs.
For those of you who love a good discussion, I'm inviting you to join my virtual book club where we can further unravel these intriguing books. Let me know if you're interested!
So, tune in for a conversation that promises to be as enlightening as it is engaging!
---
Share with me: what should I read next? Or are you interested in a book club?
Add a comment, below. Or send me a message on email or Linked-In.
---
Recommendations for Product Design Engineering
---
Episode Transcript
Hello, it's Dianna Deeney. Are you ready for book cast number two? I've been pretty busy since the last time I did a book cast. Let's talk about some relatively recent books about product development and how I thought they apply to product design engineering. Today I'm talking about Loonshots, AI2041, How to Get Big Things Done, and Quit. Stay tuned. I'll talk more about them after this brief introduction.
Hello and welcome to Quality During Design, the place to use quality thinking to create products others love for less. Each week we talk about ways to use quality during design, engineering and product development. I'm Dianna Deeney. I'm a senior level quality professional and engineer with over 20 years of experience in manufacturing and design. Listen in and then join us. Visit qualityduringdesigncom.
I found I really enjoy reading multiple books at one time. It could be as many as maybe eight or ten books at a time. They're not all in the same genre or have the same kind of topic, so that keeps things separate a little bit. But I do end up reading a couple of product development or engineering books, nonfiction books, at the same time and I really liked doing that, because one book kind of informs the other. I start thinking about different aspects of the one book I'm reading as I'm reading the other one and vice versa.
Earlier in the year, I read Loonshots and AI2041 together. Loonshots is written by Safi Bahcall. Its full title is Loon Shots: how to nurture the crazy ideas that win wars, cure diseases and transform industries. Ai2041 is written by Kai Fu Lee and Chen Quifan. Its full title is AI2041: 10 Visions for our future. These books are relatively new, published in 2019 and 2021 respectively.
Let's talk about Loonshots first. Safi is a physicist turned business person, and he applied his physics type mentality to looking at how businesses are run and, within those businesses, how projects get to be run and managed. He has an interesting way of looking at business systems and business management because of his physicist background. He thinks about when projects are at their prime or when you should drop or quit projects, based on a phase diagram, and he creates a phase diagram for groups and companies. In the book, he correlates his physics phase transitions knowledge to the business world and explains how he thinks of them, as similar or lined up lined. He also tells a lot of stories from a historical point of view, stories about big companies making big decisions that are sometimes disastrous. Safi's phase diagram has two axes. One is group size and the other one is group structure, and if you can imagine a diagonal line across the middle of it, that's essentially the sweet spot of where things are going really well, and there's a balancing act between companies that are capable of producing Loon Shots, which are those really innovative product designs that change the way we just do things. He links that against office politics, the way people and groups of people are managed, and how much creativity is promoted within the groups. He really gets into the structure of different groups in order for a company to be able to produce loon shots.
Now let me tell you a little bit about AI2041. Ai2041 is really a sci-fi fiction book. It's a series of 10 different short stories. It kind of reminded me a little bit of some of the Isaac Asimov books that I used to read when I was a kid, and even then those Isaac Asimov books were pretty old. But AI2041 is new and it's focusing and considering the impact that AI might have on our world, on how we do things, the types of products that we use and so on. Kai-fu and Chen teamed up to write this book. Kai-fu is an expert on AI technology and Chen is pretty good at writing science fiction novels. So together it made for just an interesting read. I was trying to get my teenager to read it just because he's starting to think about careers and future jobs, and that's in a lot of turmoil and volatility right now.
These two books I read together at the same time, meaning in parallel, and I found them more interesting when I read them together On their own. They're both interesting books that got me to look at things a little differently, but together I would read the sci-fi short story of what might be in the future with AI development and then read more about some of the old Pan Am projects were being described in loon shots and how the group size and group structure really affected some of the decisions that were made. It got me thinking about how some of these AI projects might be able to be developed or might go through a development process, some of the hiccups and setbacks that could be seen because of some of these large corporations doing things with AI, and it got me to think more about my plays in the development of these AI tools even more than I had before.
Here's my recommendations for Loonshots. If you're a product design history buff, then Loonshots is for you. If you're at a point in your career when you're managing different groups and they're rather large groups for big projects then you may want to read loon shots to get some different perspectives about how to manage your groups and best foster that creative loonshot mentality. Loonshots also gets into some of the politics of it all. So if you want a different perspective on the politics you may be having to navigate at your workplace, then give loon shots a try.
Here's my recommendation for AI 2041. If you like sci-fi and you're interested in what's happening with AI, then AI 2041 is a very approachable book for you to start thinking about that. They are sci-fi short stories, so they're very approachable. The stories are in settings and told from a point of view that you can kind of imagine yourself living in that kind of a world. In addition to the short stories, there is an author commentary describing why he thinks we're going to be to this point within 20 years with AI technology.
Now my recommendation for reading them together is if you really want to get creative about how we might be able to develop some of these AI technologies, because they really would be considered a type of loon shot, don't you think?
Two more product development engineering project type of books that I've been reading that I read together was Quit: the Power of Knowing Went to Walk Away, by Annie Duke. And the book How Big Things Get Done: the Surprising Factors Behind Every Successful Project, from Home Renovations to Space Exploration, by Bent Flyvbjerg and Dan Gardner. I read these two books more recently, and they were both released more recently too, in 2022 and 2023 respectively.
Quit was written by a poker playing champion who had a start in academics. Quit is a lot about how individuals have a hard time understanding, knowing, recognizing when they've let things go too far. The author explores this topic of quitting by looking at athletes and entrepreneurs and other individuals. She explores some of the psychological biases that we have as individuals and she takes a viewpoint of things that we need to do for ourselves so we know when we're getting into a situation where we are just throwing more good time after a bad idea, more money after a bad idea, knowing that you probably have heard of before, with a sunk cost fallacy. She also takes this topic from a point of view of somebody that is watching someone else take things too far, knowing that your friend or loved one is just taking too many risks and should have quit long ago. She reviews techniques with how to approach that topic with someone else and getting them to recognize the situation they're in. One of the tools that she recommends for yourself and when working with other people is to set some guidelines for when you're going to quit. Pre-plan it ahead of time, set some metrics and then, if you need to get somebody that's independent to help you evaluate those metrics at the right time so you can really decide if you really should quit that project or that venture and move on to something else. Earlier in the book, Annie talks about project management and how to take a look at and plan for projects that may need a quit criteria. She outlines different characteristics or parts of projects that may need a different attention. Sometimes we're working on projects and we're working on the things that we know that we can do. Meanwhile, the things that are really questionable and we're not sure we're going to be able to achieve or figure out, we kind of let those go until last minute. She explores that idea, also Choosing to set quit criteria based on the things that we're not sure we're going to be able to figure out. There's a lot of well thought out advice told in the way of stories, so that is also easily understandable. You can picture yourself in the shoes of these people and why they made the decisions they made.
Now, with the other book how Big Projects Get Done we are shifting from the individual to really big public projects, why they go awry and what we can do about it, with the viewpoint of civil engineering and architecture and the historical stories to go with them. Reading this book will give you a perspective of the politics at play with really big projects. You'll also see why we need to involve more planning and why experimenting and iterating belong in the planning phases of a project. I particularly enjoyed the stories about two architectural feats the Guggenheim Bilbao in Spain and the Sydney Opera House. The authors contrasted and compared these different projects on several different levels, and it was just an interesting story and the important considerations we need to take. For both the authors mantra is think slow, act fast. So they do talk about the planning. They also talk about the execution.
My recommendations for these two books are like this If you find yourself toiling away on a project that's going nowhere, then the lesson and quit may be applicable to you. It's always good to learn about our own cognitive biases. So go ahead and give quit a read so that you can watch out for those planning gotchas. If you like architecture and civil projects, then you'll appreciate the project point of view of how big projects get done.
Read together and parallel, they both focus on the planning part of projects. You'll get ideas of how to boost your project planning capabilities to include the activities and topics not typically found but proven to be necessary. They also both review some decisions that we take with projects as we're in them. Even though their examples may not be rooted in industrial manufacturing and product design, the project aspects of these books would definitely apply to product design development.
So there you have it, our bookcast number two reviewing those four books. Just as a recap, I'd recommend reading Loonshots and AI2041 together, and I'd also recommend reading Quit and How Big Things Get Done together.
If you liked this episode, there is more at QualityDuringDesigncom. You can subscribe to our weekly newsletter to keep in touch and be updated with what's going on and the latest. Also, if you think, you would be interested in joining me for a book club on any of these books so that we can have a virtual meeting with other people to discuss certain topics about them. Reach out and let me know. Give me an email or send me a voicemail. My contact information is on the website. This has been a production of Dini Enterprises. Thanks for listening.