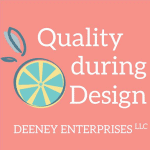 Taking a Brief Pause: Reflecting on Quality During Design's Journey and Preparing for What's Next
Blink and you'll miss it, Quality During Design is taking a short, well-deserved break. We've journeyed together through a whopping 136 episodes over the last two years and eight months, and now it's time for us to recharge, refocus, and return with a bang in a few weeks. While we are not releasing new episodes during this period, we're excited to stay connected with you through our weekly email newsletters, loaded with the same quality content, professional wisdom, and valuable tips that you've come to expect from us.
Is there a particular topic you'd love us to tackle in future episodes? Now is the perfect time to share your thoughts! We're eager to hear from you, so reach out via email or social media with your questions, feedback, or suggestions. Let's continue to build this community together during our short hiatus.
I want to thank you for your support and participation.  We're already excited to return to your favorite podcast platforms soon with a fresh perspective, exciting guests, and a renewed commitment to bringing you the best insights into quality and reliability in design. Until then, stay inspired, curious, and in touch!
---
Episode Transcript
Thanks for listening.