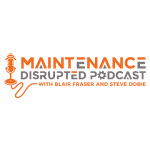 MD 199 Find Spare Parts Faster – The fastest way to find spare parts and DIY components with Partium.io
We can spend a staggering amount of time, typically between 20-30% of our time identifying and retrieving the right spare parts.  Platinum's solution for Enterprise Part Search allows you to find the right part in seconds instead of minutes, right from your existing systems.
In this episode, we invite Philipp Descovich of Partium.io and James Kovacevic of the Rooted in Reliability podcast to discuss what's wrong with the typical spare parts process and how Partium's technology enables AI and subject experts to find parts up to 50x faster.
If your company sells products or services to engaged maintenance & reliability professionals, tell your marketing manager about Maintenance Disrupted.  If you'd like to discuss advertising, please email us at maintenancedisrupted@gmail.com
Check out our website at www.maintenancedisrupted.com and sign up for the weekly disruption newsletter with bonus content. If you like the show, please tell your colleagues about it and follow maintenance disrupted on LinkedIn and YouTube.
Follow Maintenance Disrupted on LinkedIn
https://www.linkedin.com/company/maintenancedisrupted
Music: The Descent by Kevin MacLeod
Link: https://incompetech.filmmusic.io/song/4490-the-descent
License: http://creativecommons.org/licenses/by/4.0/