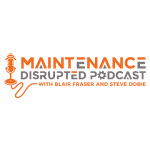 MD 151 Unlocking the value of Digital Transformation with a Unified Namespace
Scaling of Industrial IoT solutions requires a Unified Namespace, which acts as a centralized repository of data, information, and context where any application or device can consume or publish data needed for a specific action. A place where everything is a node within an ecosystem
Best described as "What one node knows, all nodes know"
If a Unified Namespace is so important, why do most of us not know what the heck it is and how to achieve it?
In this week's episode, we talk about the concept of a Unified Namespace strategy early in our Digital Transformation journey to ensure the full potential of your investment and that it can scale. I am pleased to welcome David Shultz of G5 Consulting to discuss architecting a digital transformation solution.
Connect with our Guest Here:
David Schultz – https://www.linkedin.com/in/thedavidschultz/
 If your company sells products or services to engaged maintenance & reliability professionals, tell your marketing manager about Maintenance Disrupted.  If you'd like to discuss advertising, please email us at maintenancedisrupted@gmail.com
Check out our website at www.maintenancedisrupted.com and sign up for the weekly disruption newsletter with bonus content. If you like the show, please tell your colleagues about it and follow maintenance disrupted on LinkedIn and YouTube.
Follow Maintenance Disrupted on LinkedIn
https://www.linkedin.com/company/maintenancedisrupted
Music: The Descent by Kevin MacLeod
Link: https://incompetech.filmmusic.io/song/4490-the-descent
License: http://creativecommons.org/licenses/by/4.0/