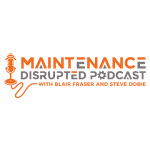 MD 155 Considerations on How to Effectively Bring Technology into an Organization with George Williams
In this episode, we are switching directions and instead of looking at the technology, we focus on people and processes to help bring these technologies in and most importantly, get the desired value from them.
In this week's episode on the Technology Innovation series of Maintenance Disrupted, I talk with George Williams at ReliabiltyX to get his thoughts and recommendation as a reliability practitioner and now an advisor and consultant on what he has seen work and not work when companies bring in new technologies. From developing the initial business case mapped to the company objective to the behavior changes needed, George provides sound advice to anyone considering bring new technology to their maintenance and reliability initiatives.
Connect with our Guest Here:
George Williams – https://www.linkedin.com/in/georgewilliamscmrp/
ReliabilityX – https://www.linkedin.com/company/reliabilityx/
If your company sells products or services to engaged maintenance & reliability professionals, tell your marketing manager about Maintenance Disrupted.  If you'd like to discuss advertising, please email us at maintenancedisrupted@gmail.com
Check out our website at www.maintenancedisrupted.com and sign up for the weekly disruption newsletter with bonus content. If you like the show, please tell your colleagues about it and follow maintenance disrupted on LinkedIn and YouTube.
Follow Maintenance Disrupted on LinkedIn
https://www.linkedin.com/company/maintenancedisrupted
Music: The Descent by Kevin MacLeod
Link: https://incompetech.filmmusic.io/song/4490-the-descent
License: http://creativecommons.org/licenses/by/4.0/