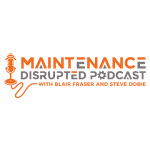 MD 149 Improving Guest Experience at an Amusement Park with AI
It might be indirectly but we are all in the customer service industry. For many of us our customers are not end-users, but other departments in our organization like operations. The challenge set out to this week's guests was "how do we improve the guest experience"
In this week's episode, we talk about using AI for Predictive Maintenance on the equipment most of us have spent a lot of time and money to use for a few seconds of fun, amusement park rides. I am pleased to welcome the data science and analytics team from Atos to discuss this unique project that generates over 25 million data points per second.
Connect with our Guest Here:
Ankur Srivastava – https://www.linkedin.com/in/ankur-srivastava-6b628521/
Arnaud Langer – https://www.linkedin.com/in/arnaudlanger/
 If your company sells products or services to engaged maintenance & reliability professionals, tell your marketing manager about Maintenance Disrupted.  If you'd like to discuss advertising, please email us at maintenancedisrupted@gmail.com
Check out our website at www.maintenancedisrupted.com and sign up for the weekly disruption newsletter with bonus content. If you like the show, please tell your colleagues about it and follow maintenance disrupted on LinkedIn and YouTube.
Follow Maintenance Disrupted on LinkedIn
https://www.linkedin.com/company/maintenancedisrupted
Music: The Descent by Kevin MacLeod
Link: https://incompetech.filmmusic.io/song/4490-the-descent
License: http://creativecommons.org/licenses/by/4.0/