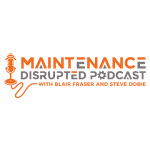 MD 164 Industrial Thought Leadership with Leah Friberg
In this weeks episode we welcome Leah Friberg and discuss a wide range of topics. Leah has her fingers on the pulse of our industry and we cover some great topics. We discuss how to get the most out of our coaches/consultants, how to navigate a parts shortage, how to keep the workforce engaged, and so much more.
You can connect with Leah here:
https://www.linkedin.com/in/leahmfriberg/
https://www.accelix.com/
If your company sells products or services to engaged maintenance & reliability professionals, tell your marketing manager about Maintenance Disrupted.  If you'd like to discuss advertising, please email us at maintenancedisrupted@gmail.com
Check out our website at www.maintenancedisrupted.com and sign up for the weekly disruption newsletter with bonus content. If you like the show, please tell your colleagues about it and follow maintenance disrupted on LinkedIn and YouTube.
Follow Maintenance Disrupted on LinkedIn
https://www.linkedin.com/company/maintenancedisrupted
Music: The Descent by Kevin MacLeod
Link: https://incompetech.filmmusic.io/song/4490-the-descent
License: http://creativecommons.org/licenses/by/4.0/