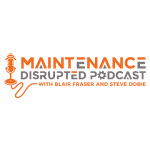 RRP 130 Digital Work Instructions With Cody Dinel
On this week's episode of Over the Line, a Rob's Reliability Project Podcast, Steve & Blair welcome Cody Dinel a Deployment specialist with Teck Resources Race21 team. In this podcast Cody tell's the listeners about his deployment of digital work instructions.
You can connect with our Guests here:
Cody Dinel – https://www.linkedin.com/in/cody-dinel-a50bb195/ & Cody.Dinel@teck.com
If your company sells products or services to engaged maintenance & reliability professionals, tell your marketing manager about Rob's Reliability Project.  If you'd like to discuss advertising on my content, please email me at robsreliabilityproject@gmail.com
Check out my website robsreliability.com and sign up for the weekly reliability newsletter with bonus content. If you like the show, please tell your colleagues about it and follow Rob's Reliability Project on LinkedIn and YouTube.
Follow Rob's Reliability Project on LinkedIn – https://www.linkedin.com/company/robsreliabilityproject/
Follow Rob's Reliability Project on Facebook – https://www.facebook.com/robsreliabilityproject/
Music: The Descent by Kevin MacLeod
Link: https://incompetech.filmmusic.io/song/4490-the-descent
License: http://creativecommons.org/licenses/by/4.0/