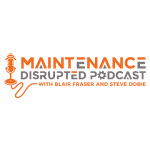 MD 194 Scaling up AI+IoT Projects in Process Industries with Vivek Gupta & Sunil Vedula
Are you thinking about implementing a new sensor in your facility? Maybe it is the Nanoprecise sensor?
In this weeks episode we talk with Vivek Gupta about his implementation journey through pilot to full scale role out of the Nanoprecise sensor. Also joining the conversation us Sunil Vedula.
Episode Shout Outs:
Vivek Gupta – https://www.linkedin.com/in/vivek-gupta-937b819/
Sunil Vedula – https://www.linkedin.com/in/sunil-vedula-844a0917/
www.nanoprecise.io
If your company sells products or services to engaged maintenance & reliability professionals, tell your marketing manager about Maintenance Disrupted.  If you'd like to discuss advertising, please email us at maintenancedisrupted@gmail.com
Check out our website at www.maintenancedisrupted.com and sign up for the weekly disruption newsletter with bonus content. If you like the show, please tell your colleagues about it and follow maintenance disrupted on LinkedIn and YouTube.
Follow Maintenance Disrupted on LinkedIn
https://www.linkedin.com/company/maintenancedisrupted
Music: The Descent by Kevin MacLeod
Link: https://incompetech.filmmusic.io/song/4490-the-descent
License: http://creativecommons.org/licenses/by/4.0/