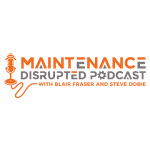 RRP 134 Over The Line – RCA Road Blocks with Bob Latino
On this week's episode of Over the Line, a Maintenance Disrupted Podcast, Steve welcomes Bob Latino, CEO of the Reliability Center. In this podcast Bob and Steve discuss getting over common RCA hurdles, and some tips to improve buy-in.
You can connect with our Guest here:
https://www.linkedin.com/in/robert-bob-latino-3411097/
RCI Website: https://www.reliability.com/
EasyRCA Website: https://www.easyrca.com/
Focus Book – PROACT RCA Quick Reference Guide
Full Book – RCA: Improving Performance for Bottom-Line Results
If your company sells products or services to engaged maintenance & reliability professionals, tell your marketing manager about Rob's Reliability Project.  If you'd like to discuss advertising on my content, please email us at maintenancedisrupted@gmail.com
Check out our website at www.maintenancedisrupted.com and sign up for the weekly disruption newsletter with bonus content. If you like the show, please tell your colleagues about it and follow maintenance disrupted  on LinkedIn and YouTube.
Follow Rob's Reliability Project on LinkedIn
https://www.linkedin.com/company/maintenancedisrupted
Music: The Descent by Kevin MacLeod