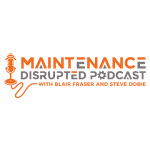 RRP 133 Does Confidence and Precision Matter in Remote Vibration Monitoring? Interview with Nanoprecise
In this week's episode of Technology Disrupted, a Rob's Reliability Project Podcast, Blair welcomes Sunil Vedula and Graham Kawulka of NanoPrecise Corp, and Dean Stephens of Benchmark Reliability Services to talk about the value of precision and confidence when it comes to wireless vibration condition monitoring. NanoPrecise hardware and software is challenging the value of both precision and confidence in one solution.
You can connect with our Guest here:
Sunil Vedula –linkedin.com/in/sunil-vedula-844a0917
Graham Kawulka –linkedin.com/in/graham-kawulka-0b851122
Dean Stephens –linkedin.com/in/dean-stephens-mmp-cmrp-crl-a7144813
If your company sells products or services to engaged maintenance & reliability professionals, tell your marketing manager about Rob's Reliability Project.  If you'd like to discuss advertising on my content, please email me at robsreliabilityproject@gmail.com
Check out my website robsreliability.com and sign up for the weekly reliability newsletter with bonus content. If you like the show, please tell your colleagues about it and follow Rob's Reliability Project on LinkedIn and YouTube.
Follow Rob's Reliability Project on LinkedIn – https://www.linkedin.com/company/robsreliabilityproject/
Follow Rob's Reliability Project on Facebook – https://www.facebook.com/robsreliabilityproject/
Music: The Descent by Kevin MacLeod
Link: https://incompetech.filmmusic.io/song/4490-the-descent
License: http://creativecommons.org/licenses/by/4.0/