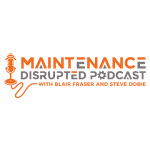 MD 161 Sanya Mathura – Maintenance & Reliability Champion
Lubrication, reliability, women in STEM, Maintenance Mastermind and a whole lot more. In this weeks episode we welcome Sanya Mathura to the show and we cover a lot of ground. Sanya is a champion in maintenance and reliability and huge supporter of Maintenance Disrupted.
Check out the links below to find Sanya, her books, and organizations she supports.
Book: https://www.routledge.com/Lubrication-Degradation-Mechanisms-A-Complete-Guide/Mathura/p/book/9780367607760
Discount code (only valid on the site above): FLR40
SRSL website: http://strategicreliabilitysolutions.com/
STEM page on SRSL: http://strategicreliabilitysolutions.com/stem/
LinkedIn Sanya: https://www.linkedin.com/in/sanya-mathura-mle-362438129/
LinkedIn SRSL: https://www.linkedin.com/company/strategic-reliability-solutions-ltd
If your company sells products or services to engaged maintenance & reliability professionals, tell your marketing manager about Maintenance Disrupted.  If you'd like to discuss advertising, please email us at maintenancedisrupted@gmail.com
Check out our website at www.maintenancedisrupted.com and sign up for the weekly disruption newsletter with bonus content. If you like the show, please tell your colleagues about it and follow maintenance disrupted on LinkedIn and YouTube.
Follow Maintenance Disrupted on LinkedIn
https://www.linkedin.com/company/maintenancedisrupted
Music: The Descent by Kevin MacLeod
Link: https://incompetech.filmmusic.io/song/4490-the-descent
License: http://creativecommons.org/licenses/by/4.0/