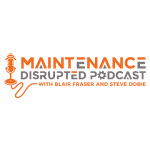 MD 160 How to Engage Your People with Garett Earl
On this bonus episode of Maintenance Disrupted, Susan Hobson & Rob Kalwarowsky welcome Garett Earl to the show to talk about people-centric leadership and how to engage your people.
Want to become a high-impact leader?  Go to robsreliability.com/leadership and sign up for The Leadership Launchpad Project High Impact Leader program.  We're giving you a $500 early bird discount until May 21 so sign up today!
If you want a private offering of The Leadership Launchpad Project program at your site, email rob@highperformancenarrative.com
Connect with Garett Earl on LinkedIn – https://www.linkedin.com/in/garett-earl-4b7b71130/
Connect with Rob Kalwarowsky on LinkedIn – https://www.linkedin.com/in/robert-kalwarowsky/
Connect with Susan Hobson on LinkedIn – https://www.linkedin.com/in/jumpstartliving/
Check out – robsreliability.com/leadership