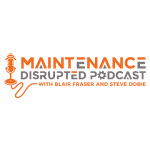 MD 141 AI-Driven Electrical Waveform Analysis with Simon Jagers of Semiotic Labs
Could there be unique signatures in your AC motor's voltage and current measurements that could detect potential failures sooner and more reliable than traditional technologies?
In this week's episode of Technology Innovation, a Maintenance Disrupted Podcast series, we welcome Simon Jagers, Technology enthusiast & founder of Semiotic Labs. The team at Semiotic labs are using MCA and voltage signals combined with AI to detect and uncover those unique failure signatures in your rotating equipment.
If you have been curious about or have been doing MCA for your rotating equipment health, this is a must-listen!
Connect with our guests here:
Simon Jagers: https://www.linkedin.com/in/simonjagers/
Semiotic Labs: https://www.semioticlabs.com/
If your company sells products or services to engaged maintenance & reliability professionals, tell your marketing manager about Maintenance Disrupted.  If you'd like to discuss advertising, please email us at maintenancedisrupted@gmail.com
Check out our website at www.maintenancedisrupted.com and sign up for the weekly disruption newsletter with bonus content. If you like the show, please tell your colleagues about it and follow maintenance disrupted on LinkedIn and YouTube.
Follow Maintenance Disrupted on LinkedIn
https://www.linkedin.com/company/maintenancedisrupted
Music: The Descent by Kevin MacLeod
Link: https://incompetech.filmmusic.io/song/4490-the-descent
License: http://creativecommons.org/licenses/by/4.0/